"For me tender and masculine is about leaning into the tender,

 

trans is tender,

 

transness helps me to redefine masculinity

 s

o that it sits comfortably within me."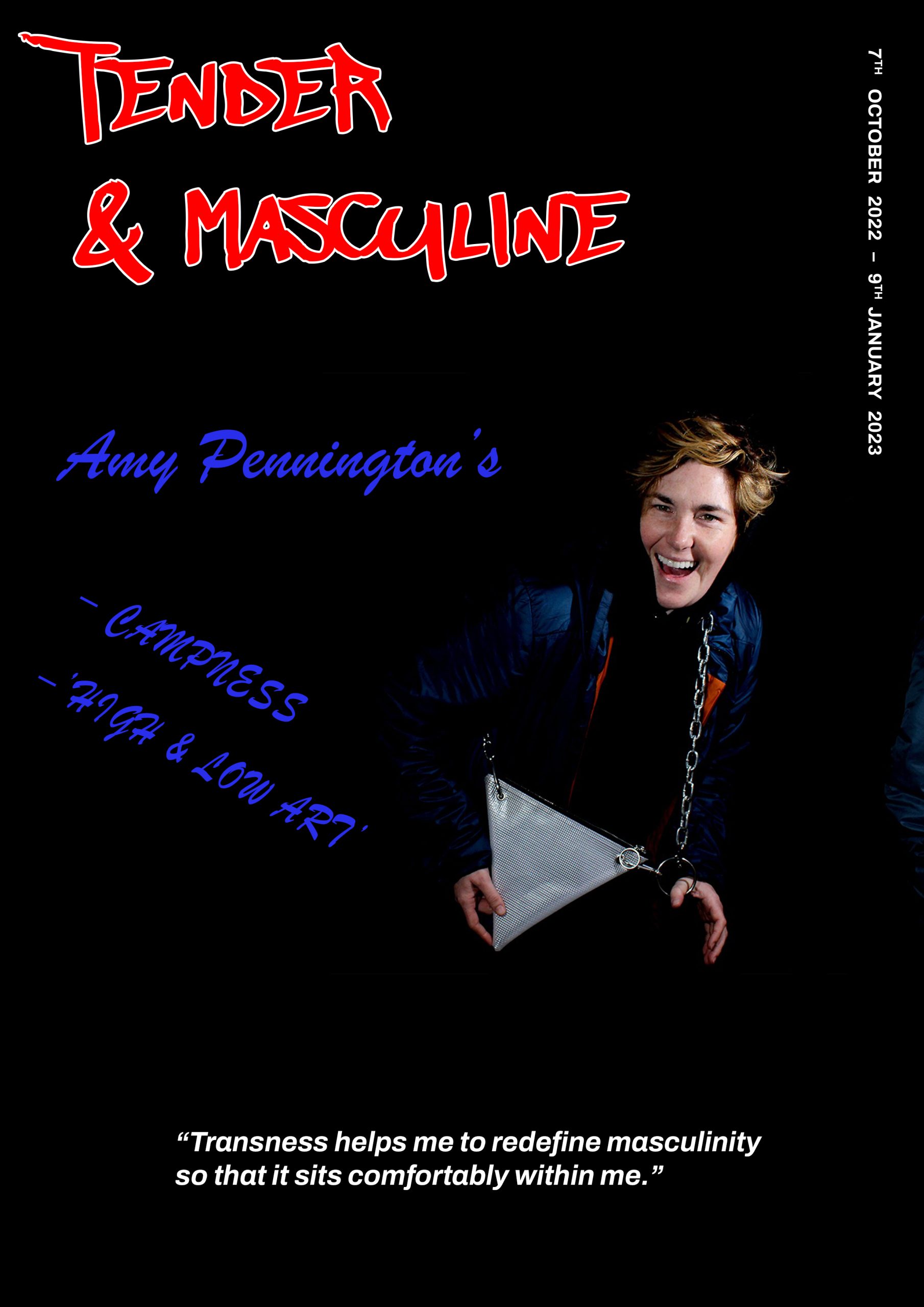 AMY PENNINGTON
Amy Pennington makes work that uses humour to connect human experiences and socio-political issues, often collaborating with people and groups. They use everyday materials and accessible processes to challenge the binaries of 'high and low art', often using queer mechanisms such as campness or satire Amy makes performances, films, books, and drawings. 
Amy has made work within institutions as well as self-organised groups and in the public realm. They have been commissioned by TATE Liverpool, Battersea Art Centre, PEER, SLG, Pump House gallery, In-situ, Home live art, Heart Of Glass, Left Coast, The Horniman museum, LADA, and have closely worked with Open Barbers, Mildmay Care home, The Outside Project, and LGSMigrants.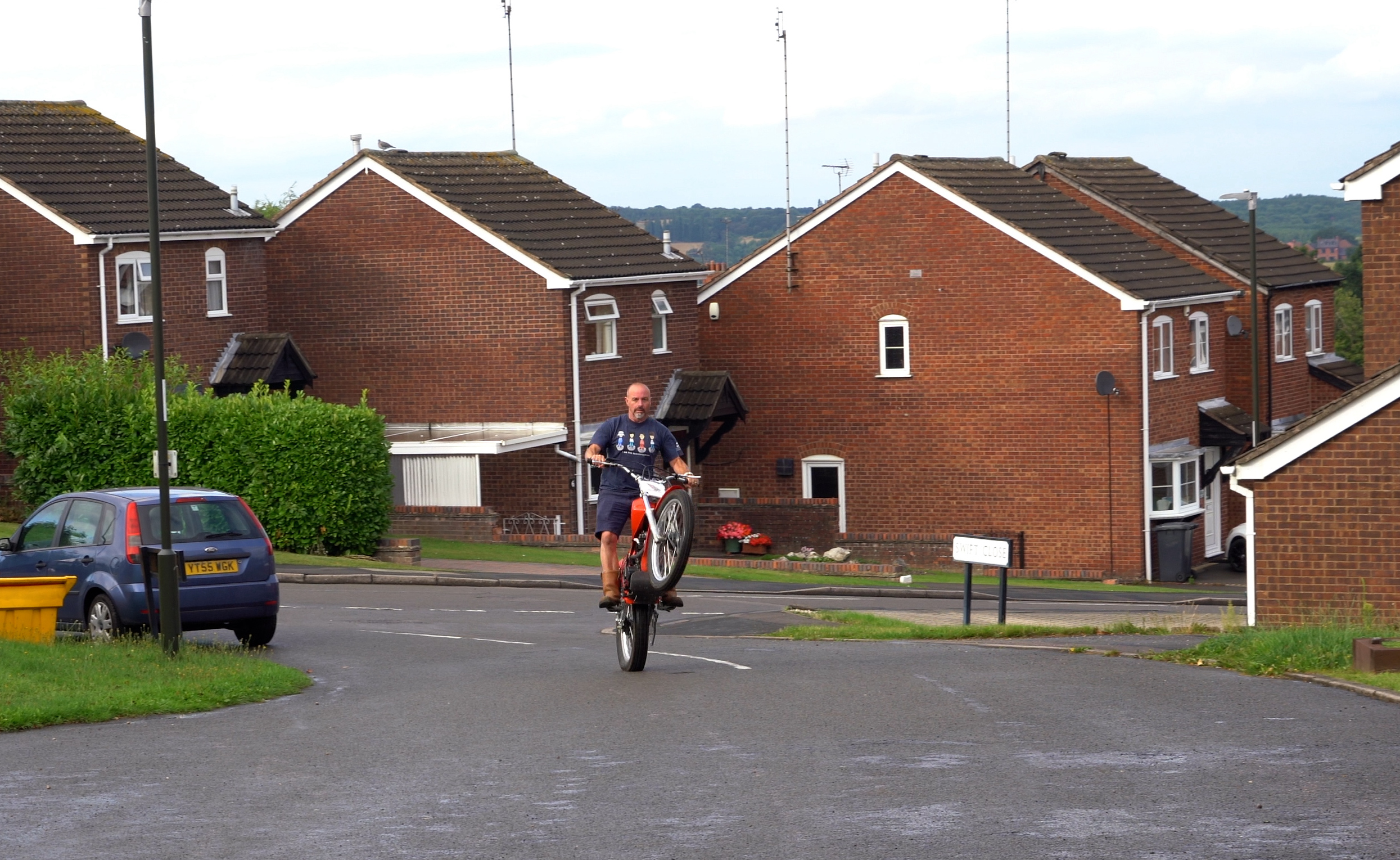 Amy Pennington: How does it feel? – Film still, on going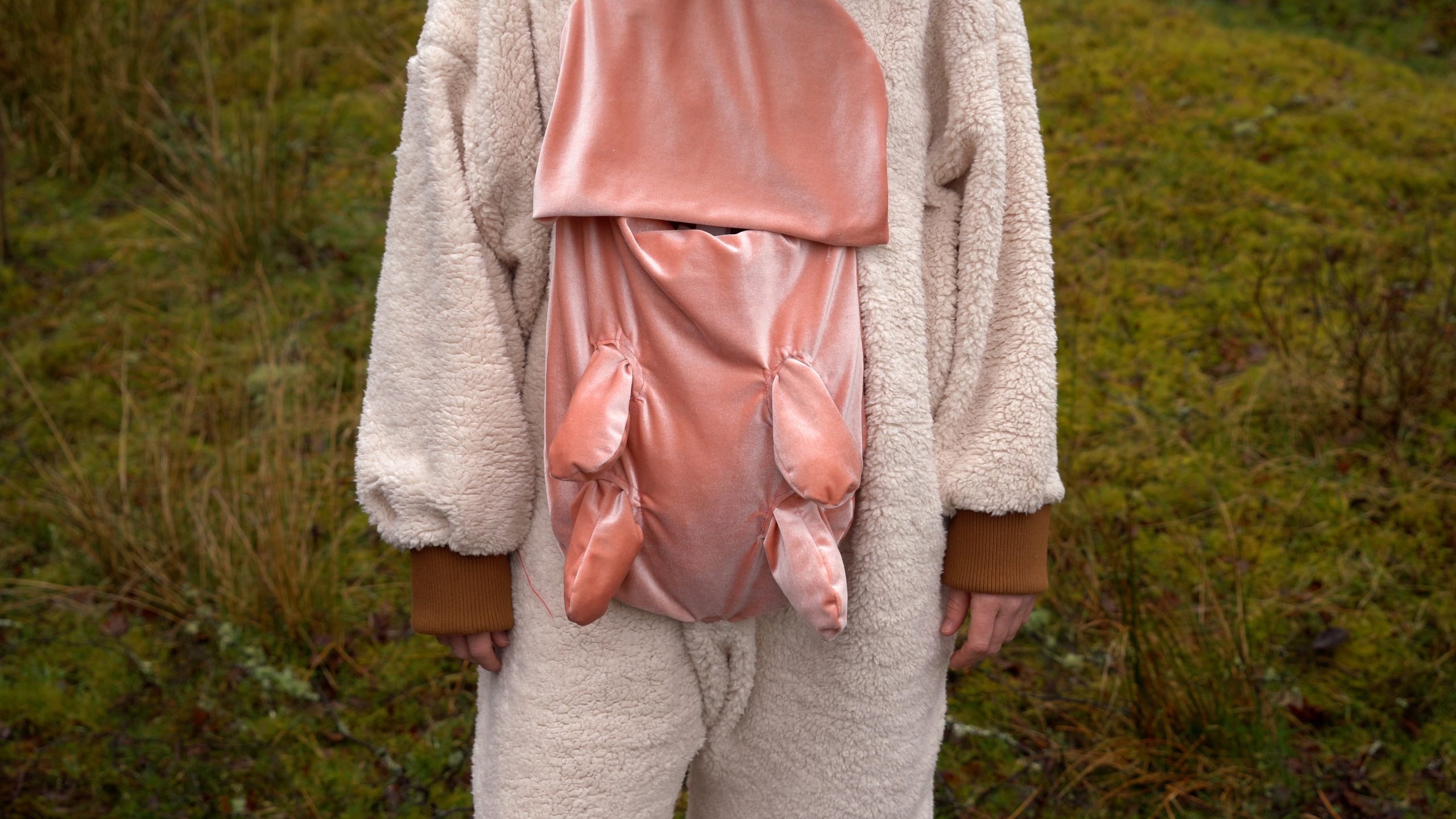 Amy Pennington: Udders – Photograph, 2022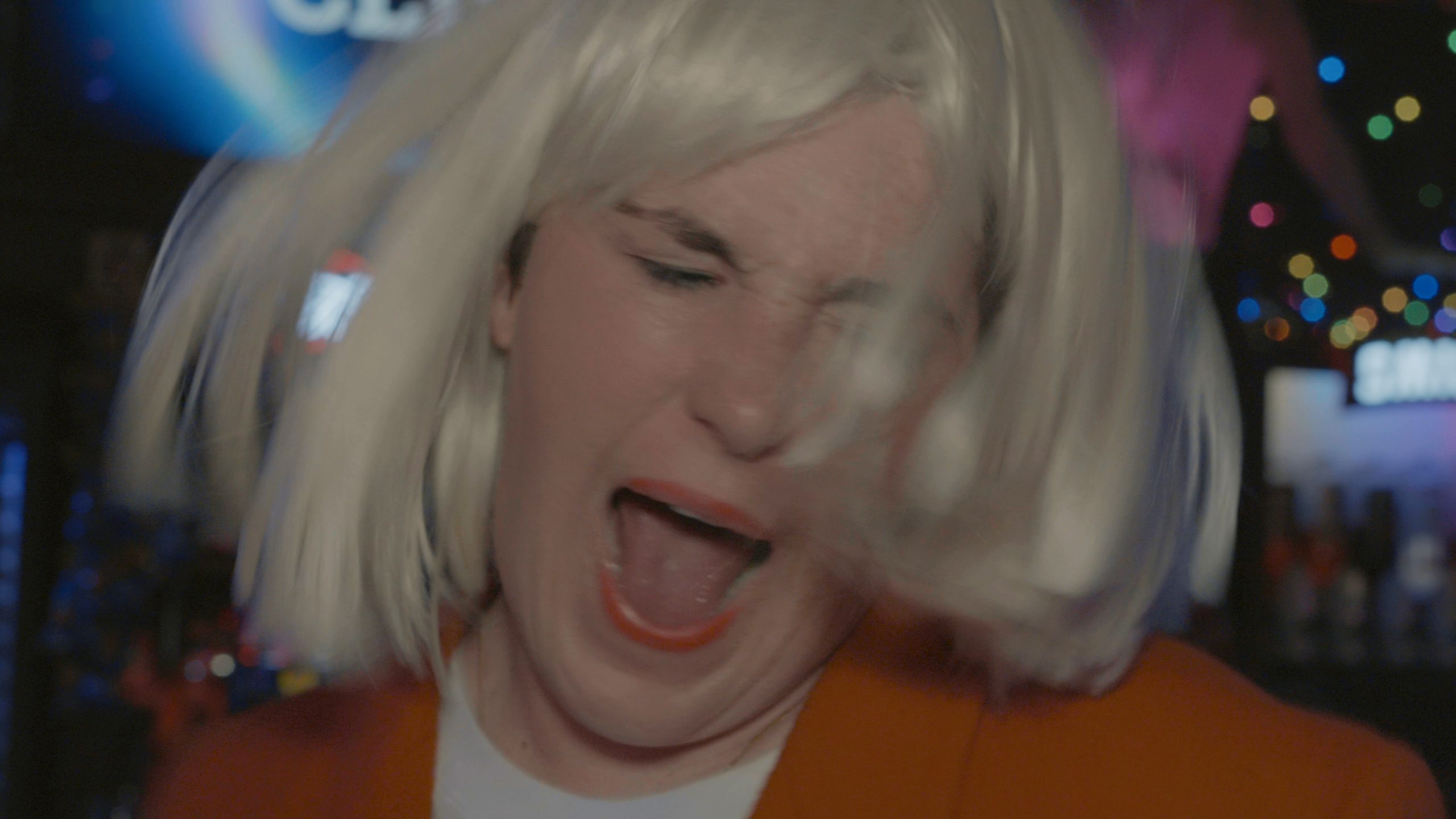 Amy Pennington: Where's Danny? –  Film still, 2022
"The first time I said I was trans, it came as both a revelation and a conflict; how could I be a man and also be in transition? But it was clear that my masculinity has been constructed quite carefully, and that I am in transition to something else…"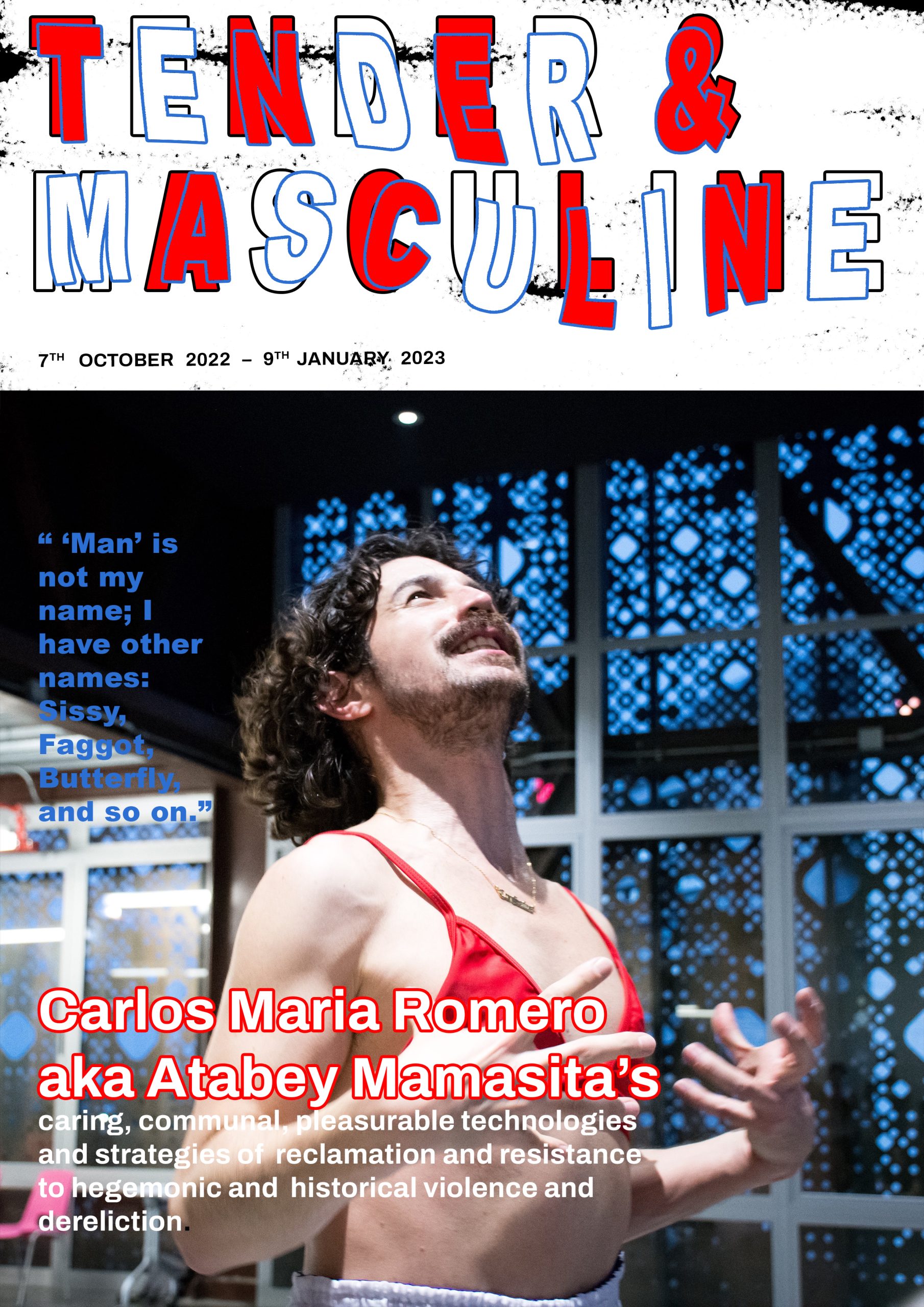 Some words on "Tender & Masculine"
In the world in which I grew up and was socialised, tenderness was not viewed as an inherent characteristic of masculinity, on the contrary. Tenderness is a survival technology I learned mostly from the women who mothered me (not from my mother). Although I find identity as a frame of self-reference to often be counter beneficial, I would say that I wanted to be like those women, and like others whom I saw experiencing, and finding ways to navigate and dismantle systems of structural violence. Actively, I have chosen to never stop becoming like them.
My only option inside that world was to be 'male' with much effort made by others to ensure no alternatives could exist for me. Any possible alternatives were viewed as being in opposition to, in contrast with, or anathema to the concept of 'male'. 'Man' is not my name; I have other names: Sissy, Faggot, Butterfly, and so on. To me, these are more dignified names to call myself. Rejecting a type of masculinity that participates in violence was edifying to me, as it was embracing (rejoicing) other forms of non-masculine maleness too. This meant that I was actively choosing to not adopt the patriarchal masculinity inherited from colonial governance.
The first time I said I was trans, it came as both a revelation and a conflict; how could I be a man and also be in transition? But it was clear that my masculinity has been constructed quite carefully, and that I am in transition to something else. I didn't cease being male, especially as I am attracted to men who like men, but I have transitioned to something else, not something that is defined in opposition to maleness but in expanding from it, being in critical conflict with it, and in transforming maleness to the point that it becomes irrelevant in its own terms. 'Masculine' is one facet of myself, a part of my history and my culture, one that I have learned to enjoy through cherishing the process of reclaiming agency over it.
In this sense tenderness can be a prompt to unlearn the habits of the so-called 'toxic masculinity'. The type of tenderness I am pointing out in this respect is one that relates to the interconnected dynamics of care, love and vulnerability. As in being able to make efforts to guarantee the wellbeing of others; to exercise a radical form of acceptance and appreciation of others; and of rejecting the culture of believing that one doesn't need anyone, that one is better than others, that one's life has more value than that of other life forms, or that one is in eternal competition with others.
For me, tenderness is also exercising the granting of permission to oneself to do, to learn, to accept the complexities and oddities of life's processes, of being together, of sharing with others, and definitely trying to not oppress others except through consensual play. In that respect, I do think of tenderness as playfulness. Tenderness as a social value, a political practice to aspire to in our communities, a way to treat oneself and others. A transcestral and/or hercestral practice. A way of practicing what is needed for liberation and also what liberation might feel like.
CARLOS MARIA ROMERO
Carlos Maria Romero aka Atabey Mamasita is a Colombian Caribbean artist and curator based between London and Berlin. Their multidisciplinary work takes form through moving image, performance, movement practices, community and pedagogical projects, and interventions to protect and enhance cultural heritage practices and sites relevant to minorities and social cohesion.  
Producing predominantly embodied, edifying, caring, communal, pleasurable technologies and strategies of reclamation and resistance to hegemonic and historical violence and dereliction; they often work in collaboration with charities, architects and several international artists collectives, including SPIT! – Sodomites, Perverts, Inverts Together!; Vividero Colectivo, and Dance at the crossroads (as we walk), who unveil and confront coloniality and racism in international dance networks; constituting a mutual aid sociality of re-membrance where love and beauty is cultivated.
Their film La Nave (2021) received in the same year the New Cinema Awards from Berwick Film & Media Arts Festival and was shown in CineMigrante (Buenos Aires) and Royal Academy of Arts (London). Other recent projects, collective work and co-creations like Hurakan Caress (2020) were presented at Migration Matters Festival (Sheffield), Verbo/Galleria Vermehlo (Sao Paulo), Kunsthalle Vienna, Skopje Pride Week, Antwerp Queer Arts Festival, and in London Auto Italia South East, Thomas Dane Gallery and Cell Projects Space. Their performances HQ – (I Feel so Mezzaniney) (2018), a collaboration with Steven Warwick, and the series Muy Serio (2018-2019), have been presented in recent years at ETOPIA Zaragoza, Museo de Arte Moderno de Medellín, Volksbühne (Berlin), Montréal Arts Interculturels, Kettle's Yard (Cambridge), Jupiter Artland (Edinburg), and London Contemporary Music Festival among other places.
For more than two decades Maria Romero have collaborated and/or performed for choreographers, artists and designers like Amanda Piña, Meg Stuart, Trajal Harrell, Isabel Schad, Boris Charmatz, Pina Bausch, Carlos Motta, George Henry Lonely, Pedro Gomez Egaña, Anthea Hamilton, JW Anderson and many others.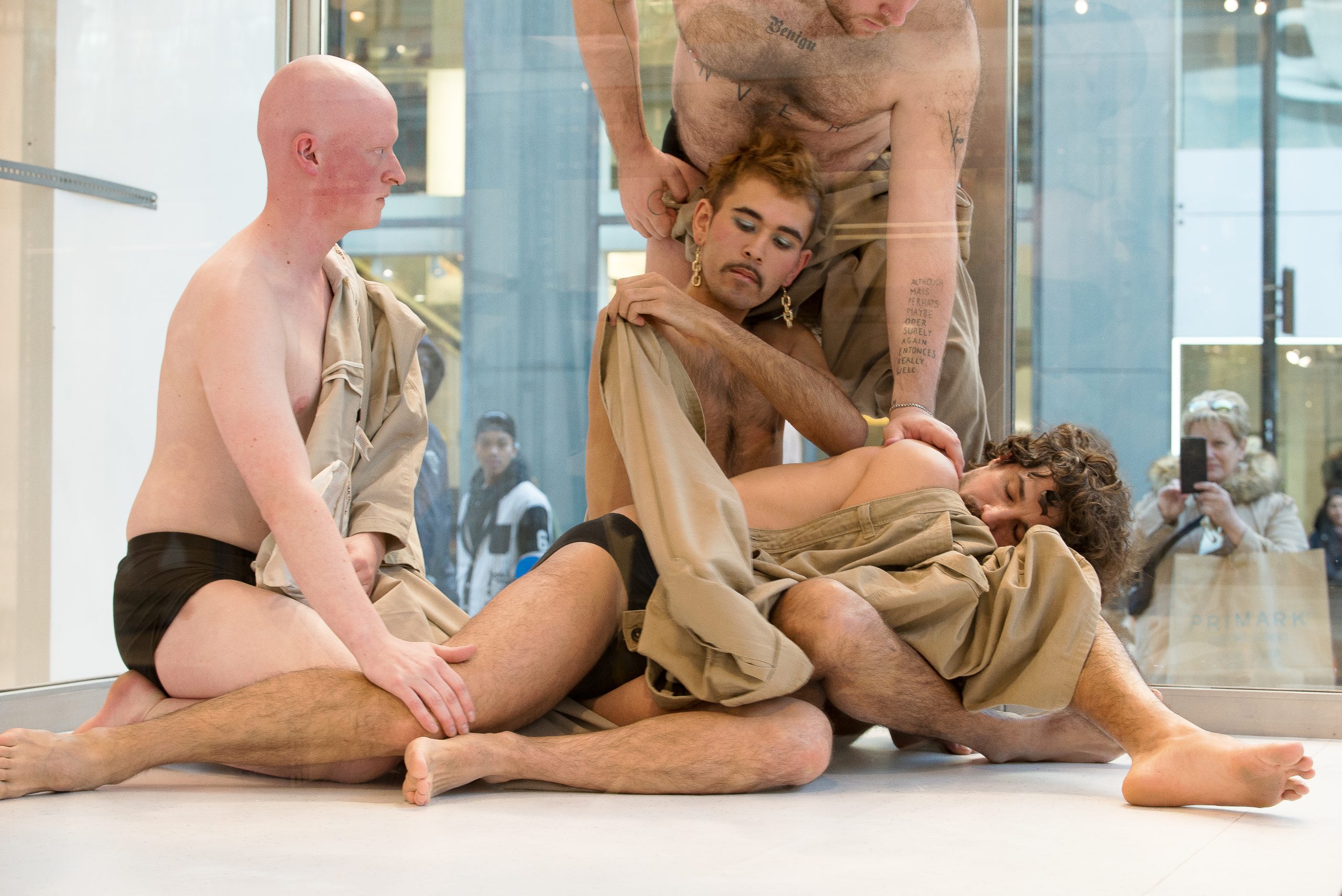 Muy Serio (Khaki Pants), Carlos Maria Romero © Kat Perlack, 2019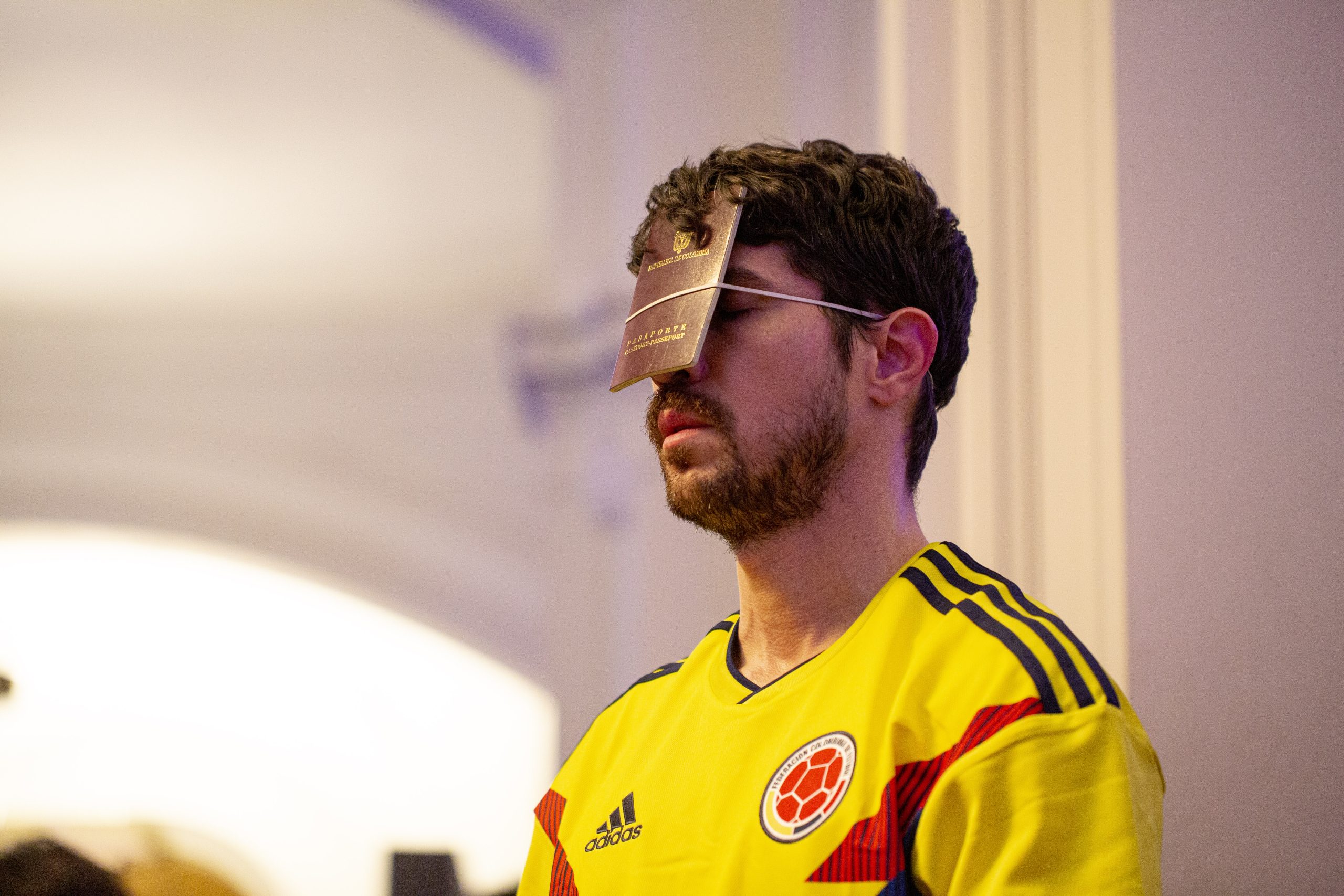 Muy Serio (Football T-Shirt) @ Royal Academy of Arts, 2020 
"To me "tender & masculine" is about broadening a narrow idea of the masculine. It is about looking for my darling dick in socks and stones and moss and knick-knacks, wearing a mascara moustache. About not passing (yet?) and dreaming of broad shoulders. And about being curious and kind and comfortable and silly!"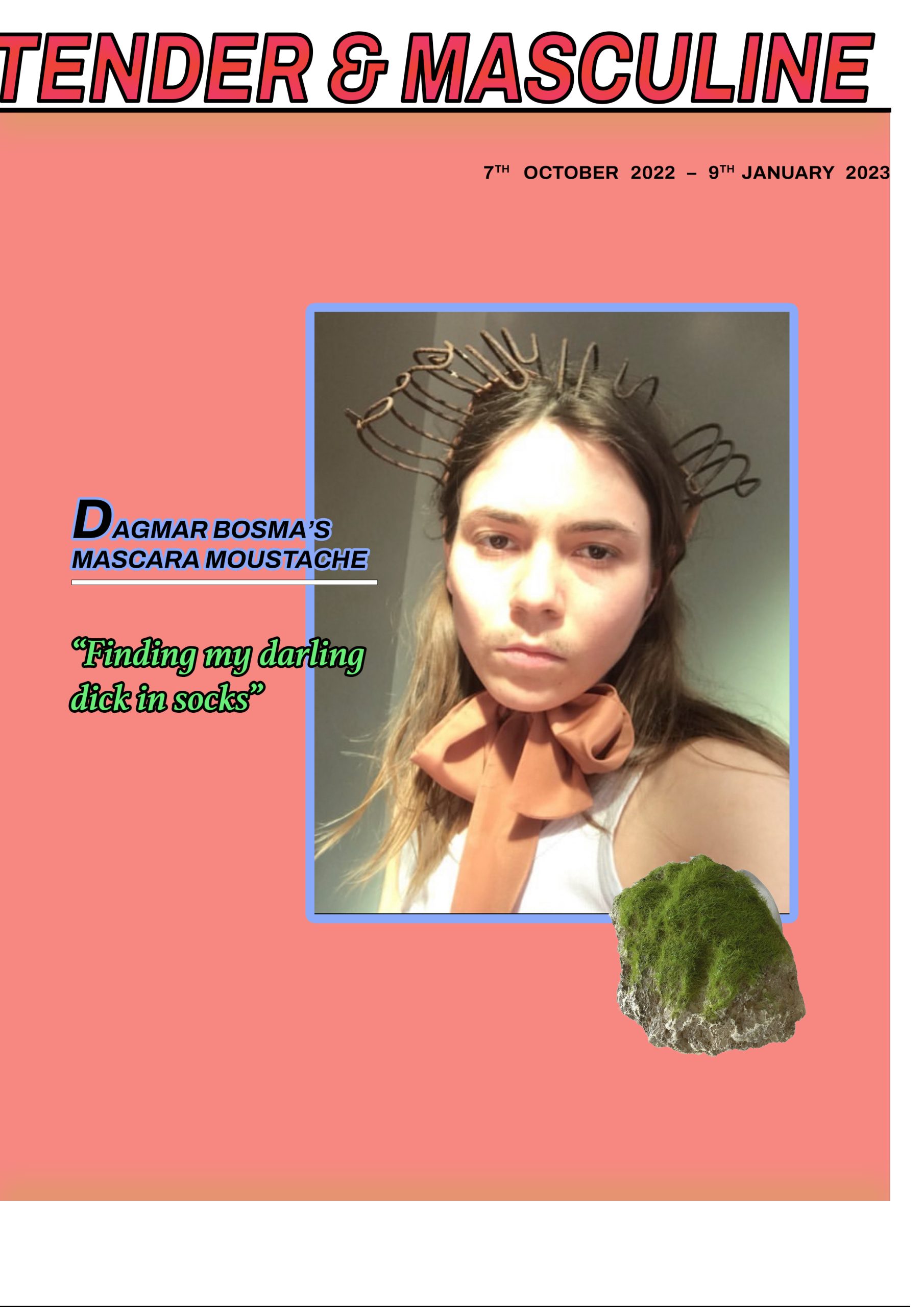 DAGMAR BOSMA
Dagmar Bosma is an artist, performer, writer, and cultural programmer living in Rotterdam (NL). They graduated with an MFA in Fine Art from the Piet Zwart Institute, where they developed the ongoing body of work "SCRAP METAL DREAM BOY", following trans*ing movements of rust and ruination. Currently he is exploring stimming, object-sensuality and voice improvisation as queer body extension. They have recently exhibited and performed at Available & The Rat (Rotterdam), Mutter (Amsterdam), Marres (Maastricht), EMAF (Osnabrück), Sofia Art Week (Sofia), Dracul.la (Barcelona), and have published their writing with Mister Motley, Tubelight, and Metropolis M. He likes to glean scrap metal at post-industrial sites whenever he has the chance.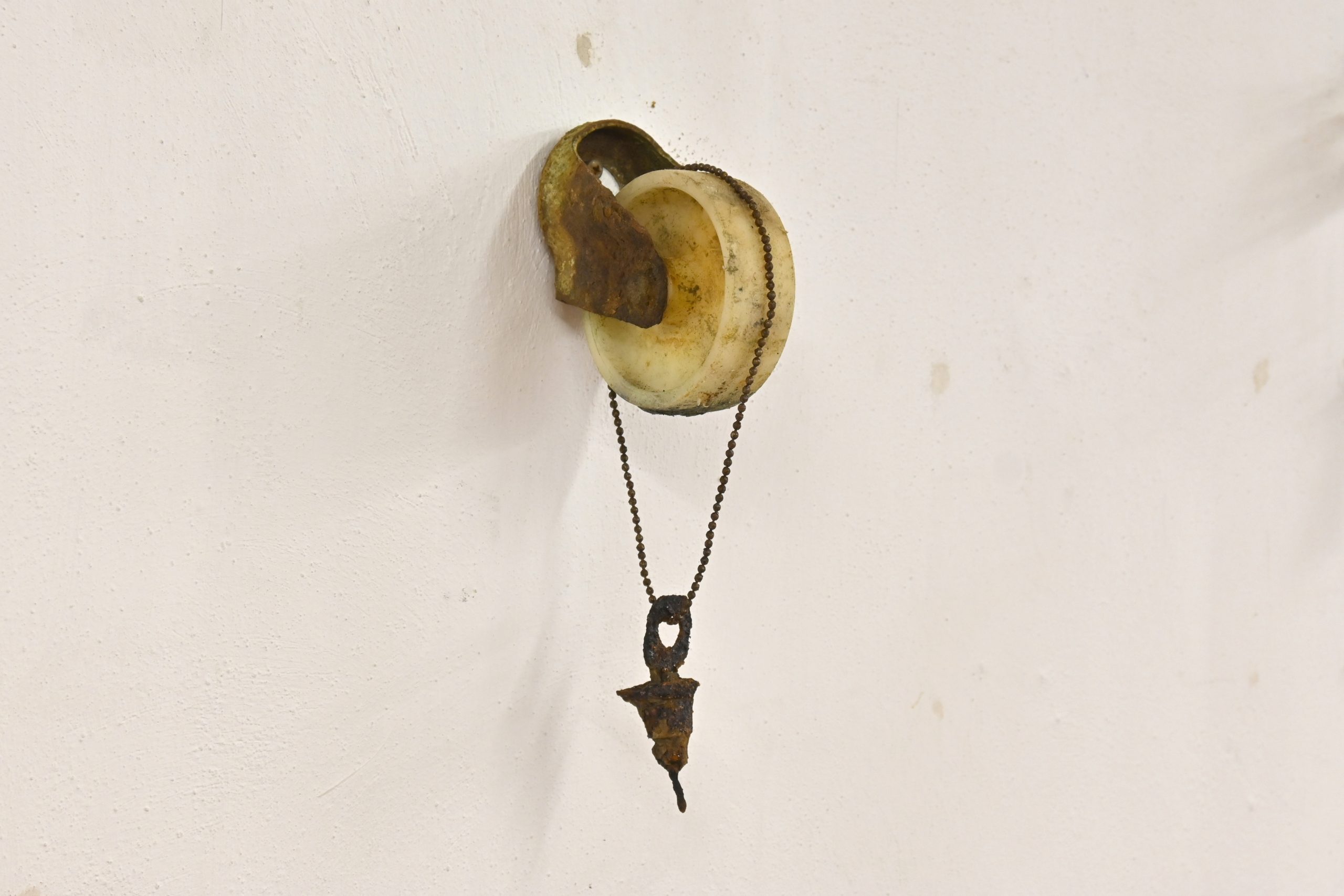 SCRAP METAL DREAM BOY, salvaged wheel and metal, 2021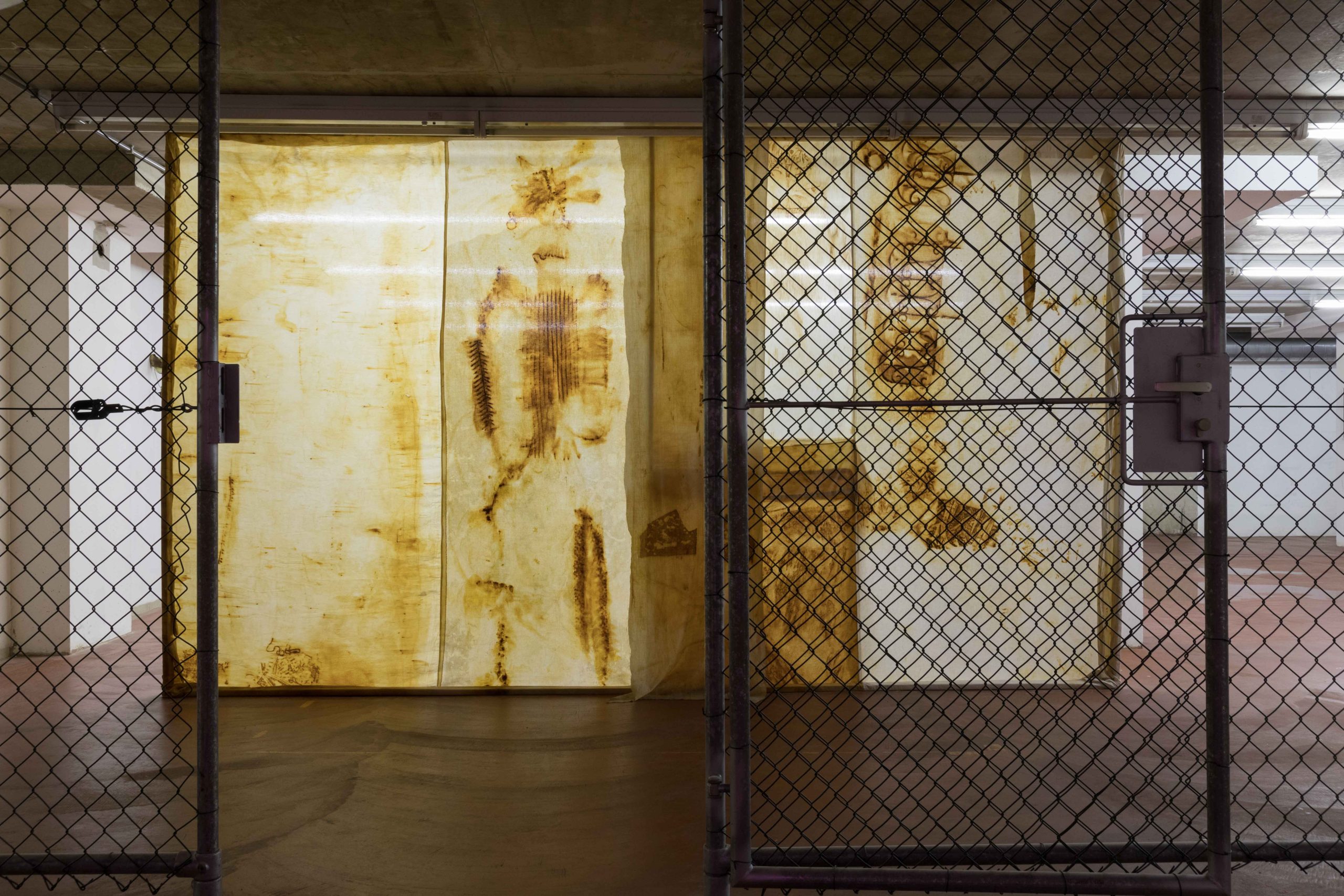 SCRAP METAL DREAM BOY, rust-dyed textile, 2021
"The amount of sensitivity and tenderness to be found within masculinity once you start to examine and experience its multitudes comes as a welcome surprise. With the amount of hate and damage masculinity is puncturing our society now, it is so important to look deeper within and see the softness and joy that masculinity has the potential to really hold. It is the responsibility of all of us who hold space within masculinity to not only reframe the definition, but also protect those who do not have the privilege from its misused destruction."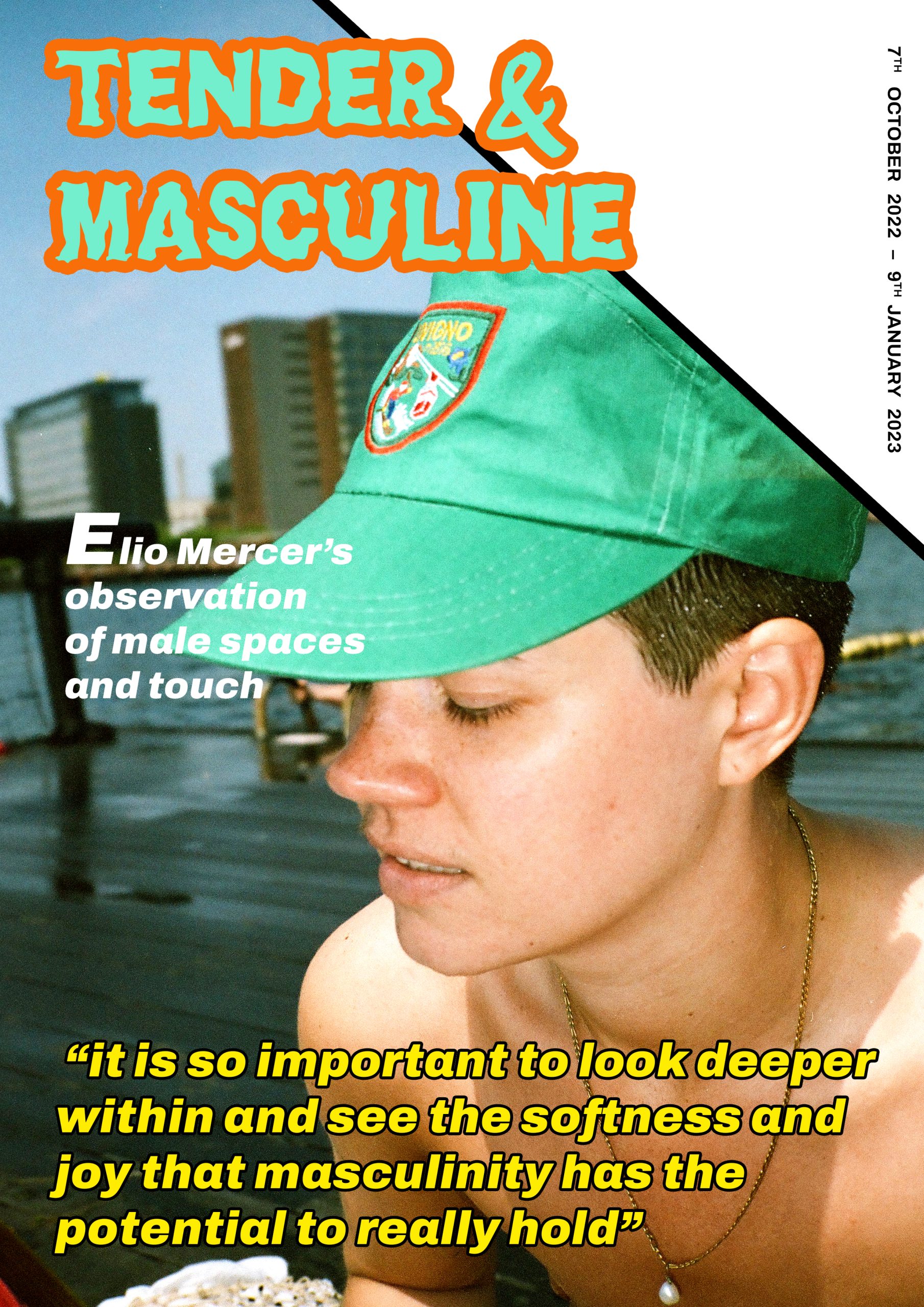 ELIO MERCER

Elio Mercer is a queer multidisciplinary artist working within themes of masculinity, the trans masc experience and the observing of male spaces and touch.
Mainly focused within the painting medium, they also work in written word and found objects/sculpture.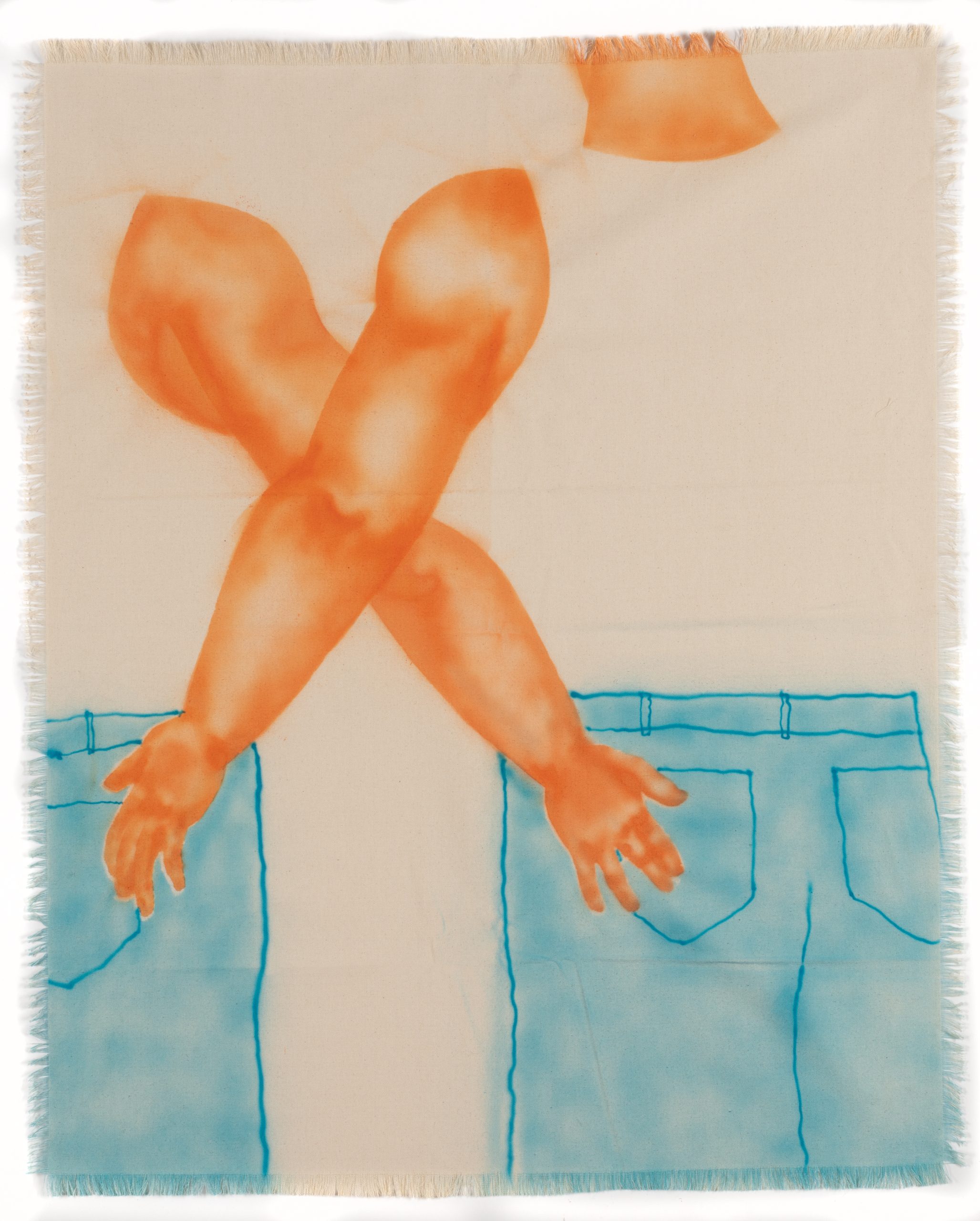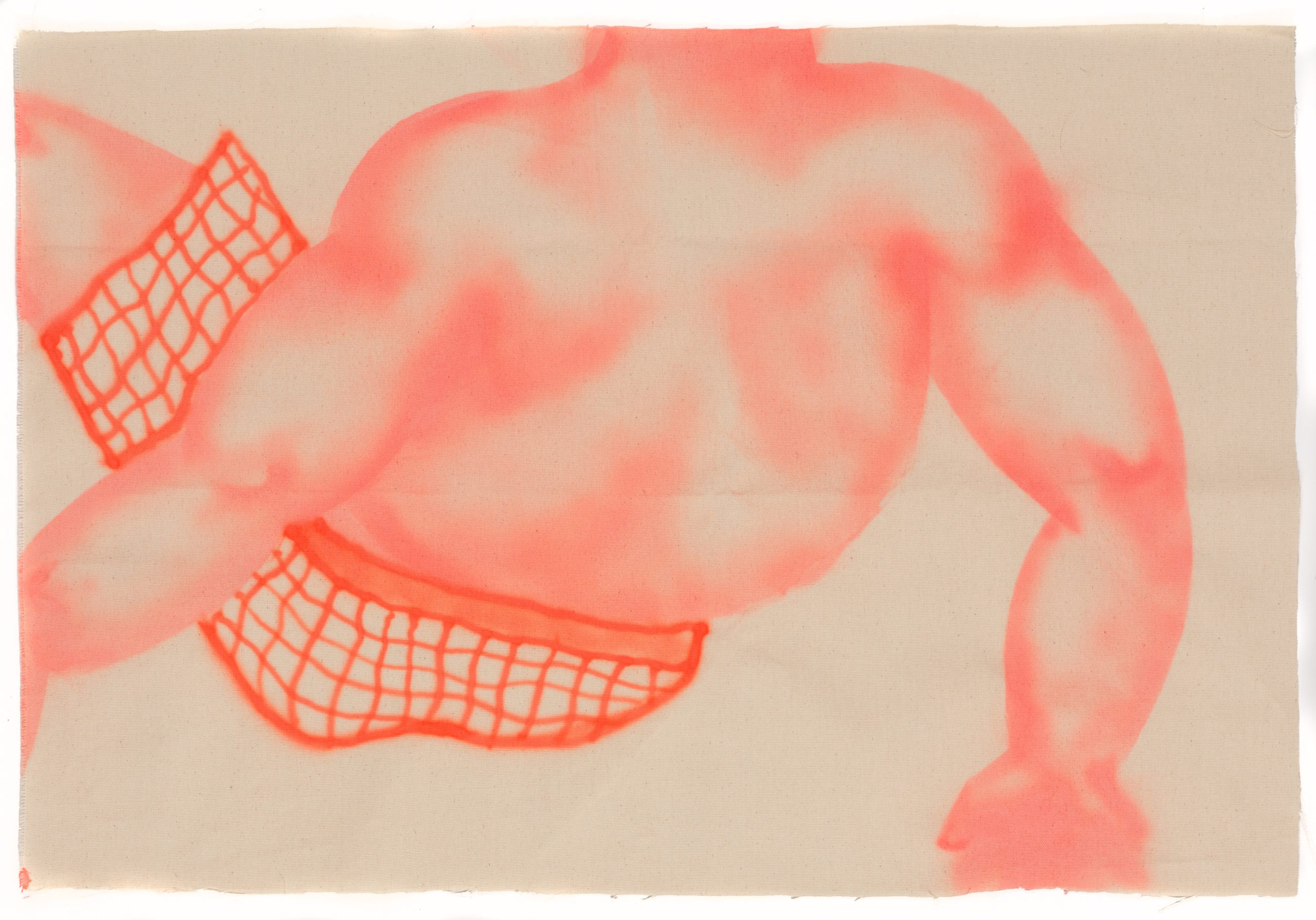 "Tender masculinity is the antithesis to a cis, heternormative toxic masculinity as it views care and vulnerability as not separate from masculinity. T-boys have a magic power that enables us to reimagine the masculine as something multidimensional: tough but also soft."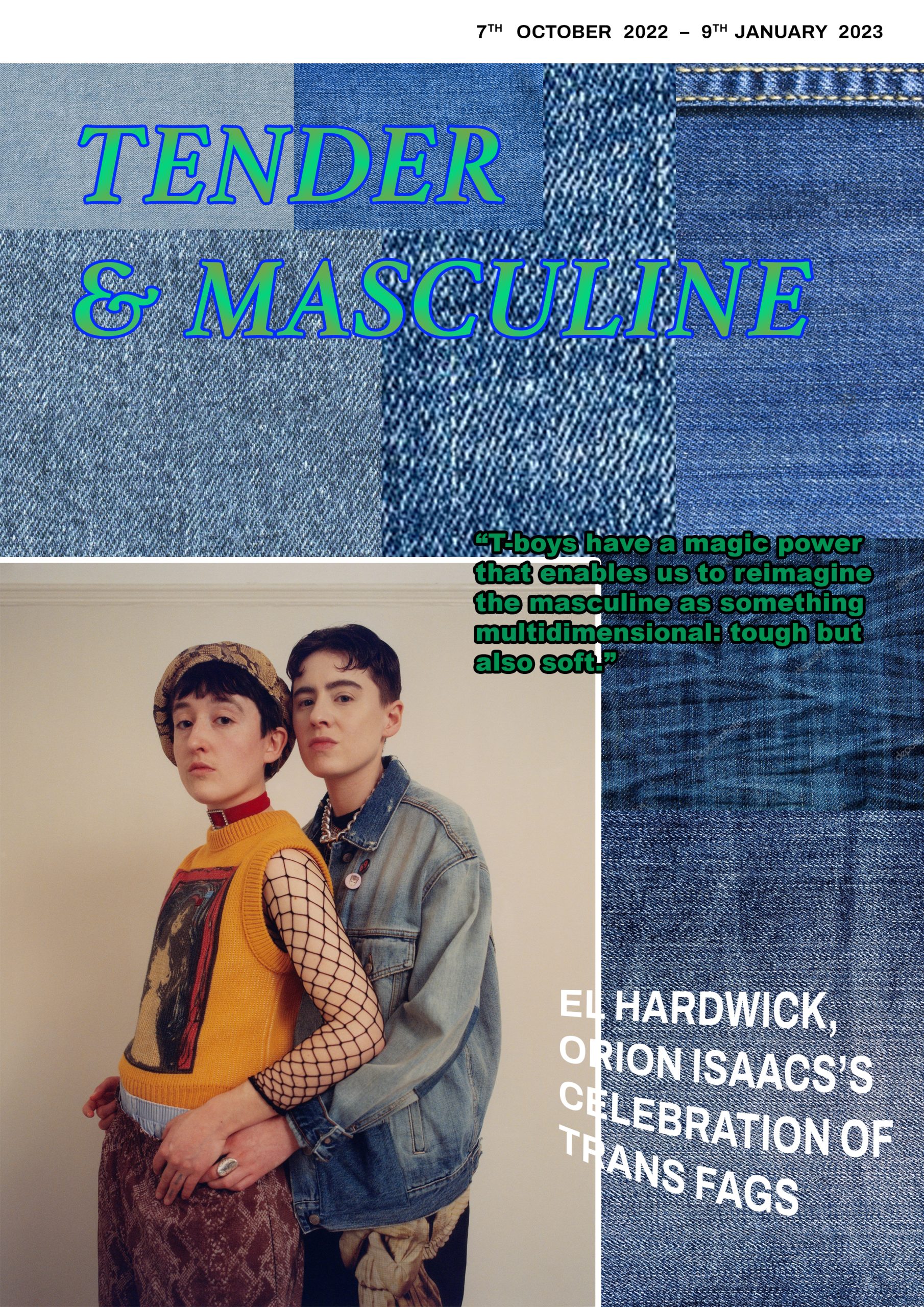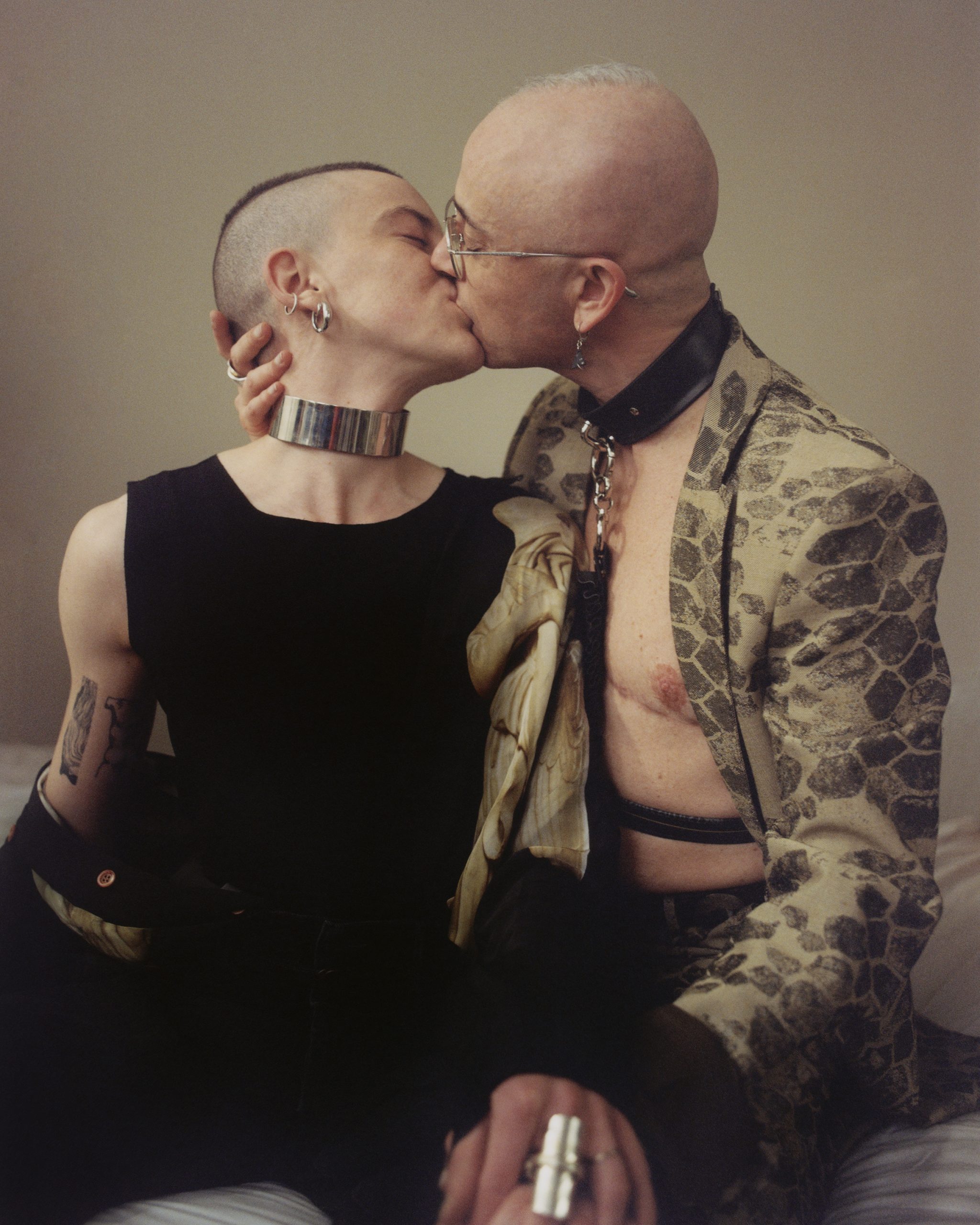 EL HARDWICK & ORION ISAACS
El Hardwick is a London based photographer, musician, director, curator and writer. Identifying as trans non-binary, their work explores relationships between bodies and their surrounding environments, queer world making practices, and how we can heal on a damaged planet. Hardwick has exhibited in London, Paris, Tokyo, Los Angeles, Oxford, Lisbon and Brighton, at galleries including The V&A Museum, Palais de Tokyo and The Southbank Centre. They have also performed their music internationally and done talks on their work for Oxford and Cambridge university. They have been featured by platforms including The Guardian, The British Journal of Photography, i-D, Dazed, Boiler Room and BBC Radio 4.
Orion Isaacs is a multidisciplinary artist whose practice encompasses performance, music, creative direction, writing and curation. They often integrate sound, visuals, text and objects, to create immersive installations. Isaacs's work centres personal cultural politics and its complex relationship to social realities, stories of Jewish migration/displacement, platforming oral histories of otherness and resurfacing lost family archives. Isaacs has exhibited at The V&A Museum, The Southbank Centre, Live Art Development Agency (LADA), The Royal Festival Hall, Rich Mix and across London's LGBTQIA+ performance venues.
As a collaborative duo, Hardwick and Isaacs bring together their diverse practices to create worlds that include visual, sonic, textual and tactile elements. As a queer trans(masc) couple who identify with the term fag, they began to collaborate in 2022 on 't-fags': a project that aims to photograph and interview trans men, transmasc and non-binary individuals, couples and polycules who self identify with the term 'fag'. In the past, the gay transmasc experience has slipped between the margins in photographic representation – often inaccurately archived as sapphic. Hardwick and Isaacs's project cellebrates how trans fags today are claiming the historically loaded term to reimagine masculinities that embrace femininity, tenderness and gender expansiveness. Their immersive installation at Rosa Kwir will honour trans fagginess through photography, text, a soundscape and objects, carving out an intimate archive of friends and the wider T4T fag community today.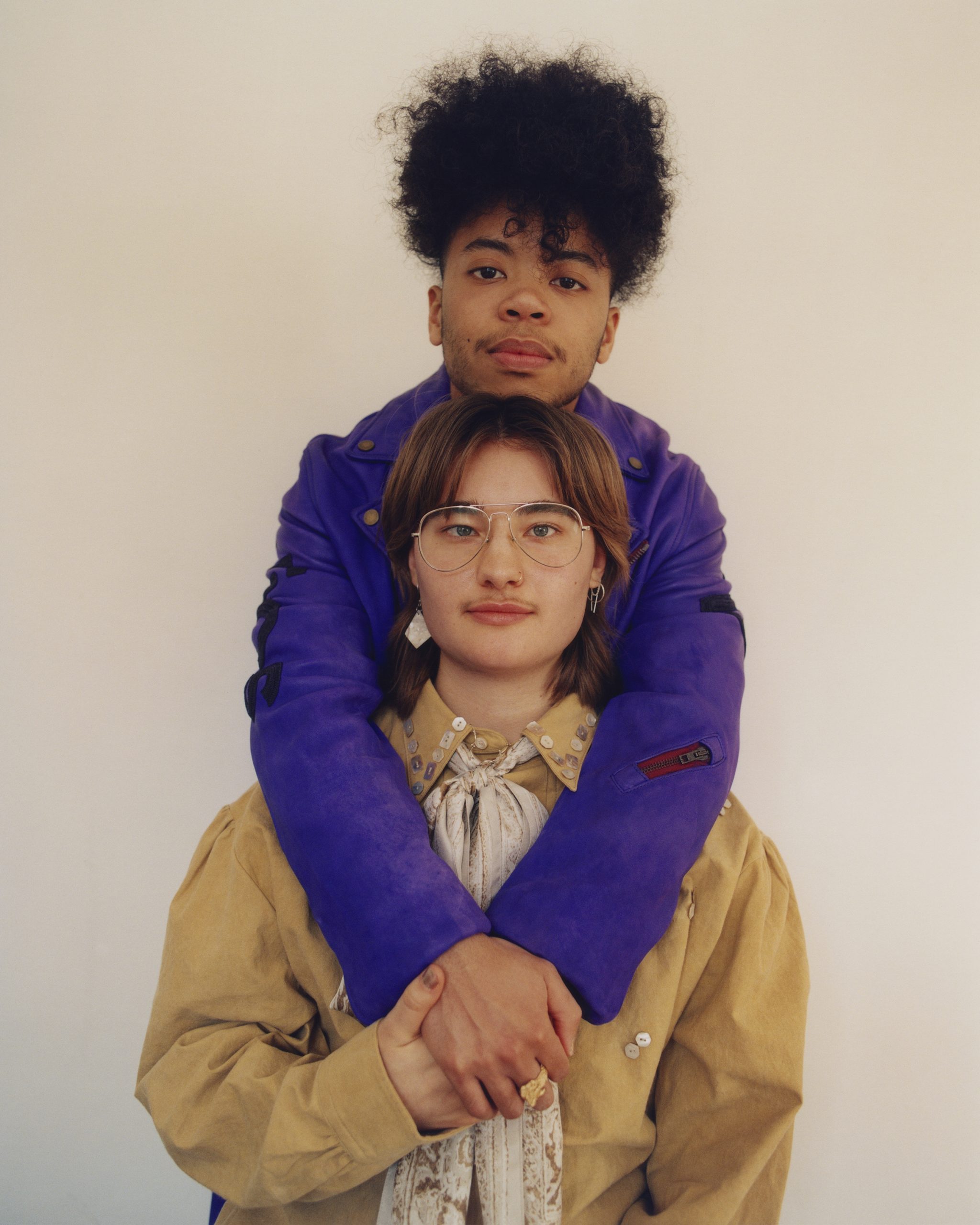 Candy t4t Wing-Yee Wigram
"When I think about tender and masculine, there is a lot of going on in my head. In a way, I'm only masculine because I'm tender. If there wasn't a chance of becoming a tender man, I would have never transitioned. My biggest fear was to lose my ability to cry, beside losing the love of my life and the hair on my head. I wanted to stay open, vulnerable, permeable. Unfortunately, I live in a society where masculine and tender are opposing poles. Even more when it comes to men among themselves. Sometimes there a glimpses of tenderness but mostly accompanied afterwards with a much less tender gesture. What if being tender is the most masculine thing in the world? I think I would cry, but with happiness."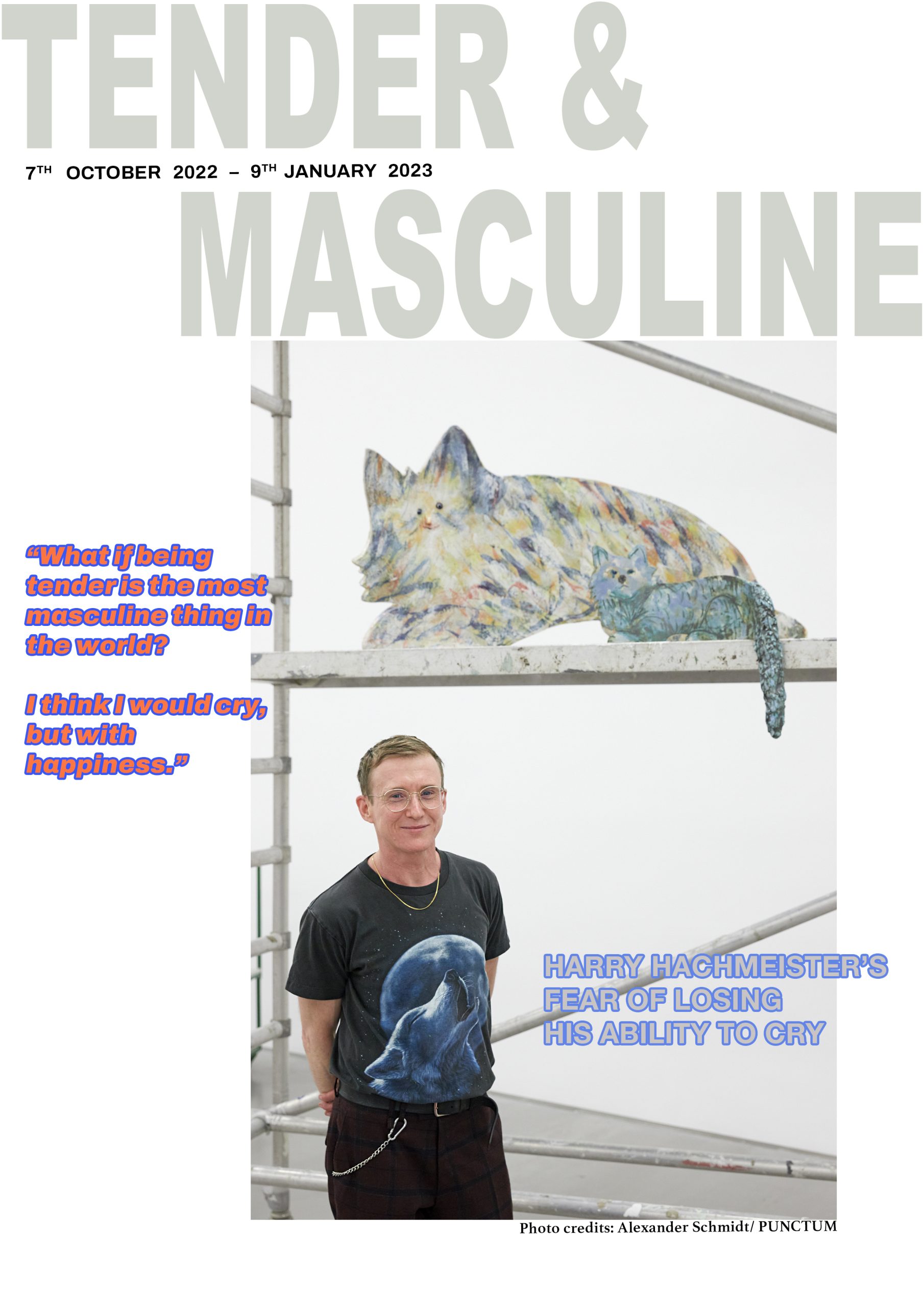 HARRY HACHMEISTER
Harry Hachmeister was born 1979 in Leipzig, Germany and studied from 1999 until 2007 Fine Art Photography at the Academy of Visual Arts Leipzig, Germany.
Hachmeister received several awards such as an working grant by Kulturstiftung des Freistaates Sachsen (2020), the BS-Project scholarship by HBK Braunschweig (2018) and a stipend of Pollock-Krasner-Foundation New York (2014).
His works were shown in numerous exhibitions at home and abroad such as How (Not) to Fit In, Villa Merkel, Esslingen 2022, Neue Welten, Museum Folkwang Essen, 2021, Framing Identity, Museum für Photographie Braunschweig (2020), We don't use it, Museo de Arte Contemporáneo, Santiago de Chile (2020), Inside-Out, Kunstmuseum Wolfsburg (2019), Lesbisches Sehen, Schwules Museum Berlin (2018), Redemption Jokes, Neue Gesellschaft für Bildende Kunst Berlin (2015), Travestie für Fortgeschrittene, Galerie für zeitgenössische Kunst Leipzig (2015), Unceasing, kim? Contemporary Art Centre Riga/ Litauen (2013).
In 2022 his first institutional solo show "Von Disko zu Disko" opened at Museum der bildenden Künste Leipzig.
He was and still is part of several collaborations such as DIE STREICHELWURST. Das Magazin (since 2010), artist group VIP (2003-2018) and sometimes works together with Claudia Gülzow under the name Simon & Simone.
Photo credits: Alexander Schmidt / PUNCTUM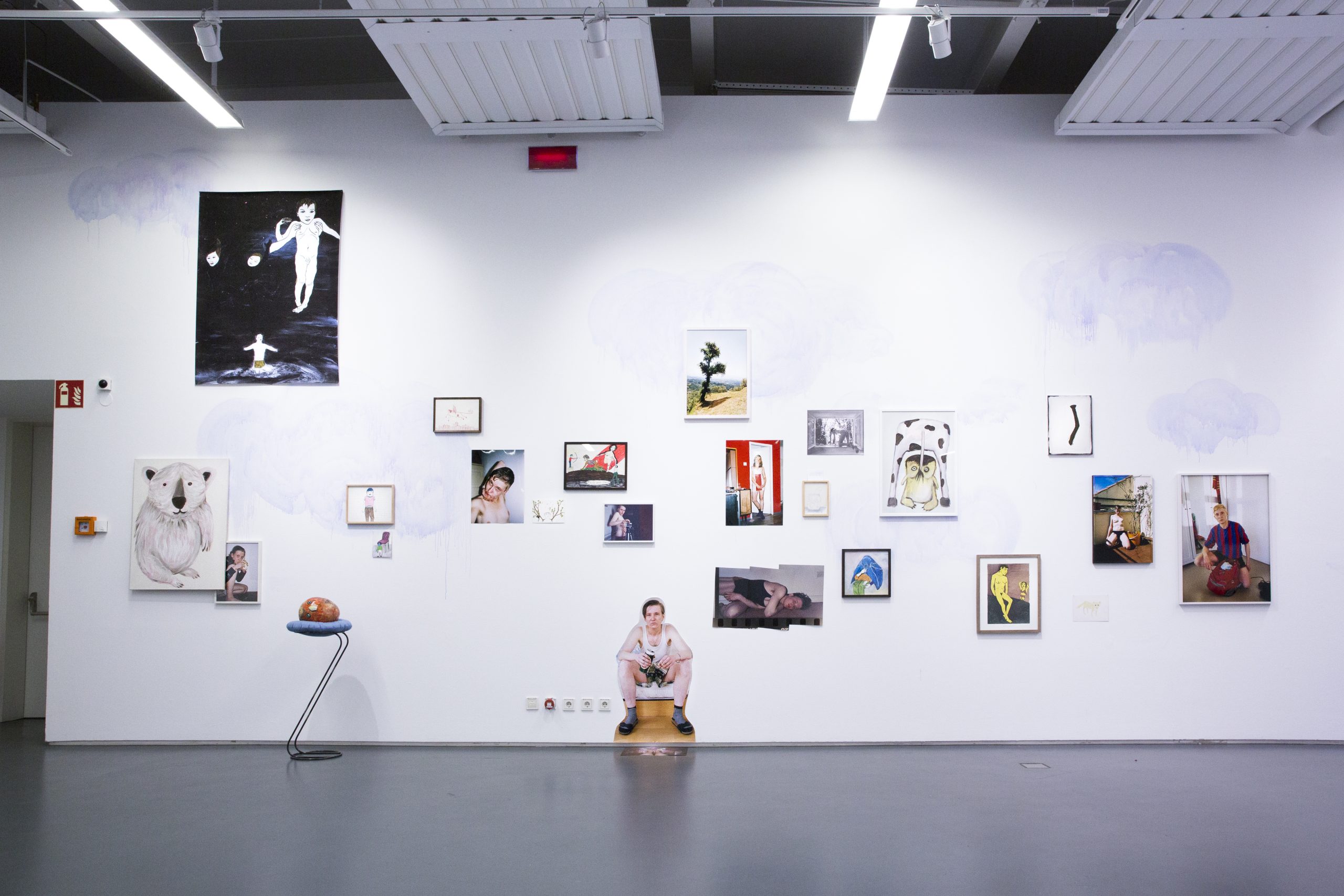 Installation view Framing Identity, 2020, Museum für Photographie Braunschweig, Germany
photo: Min Kim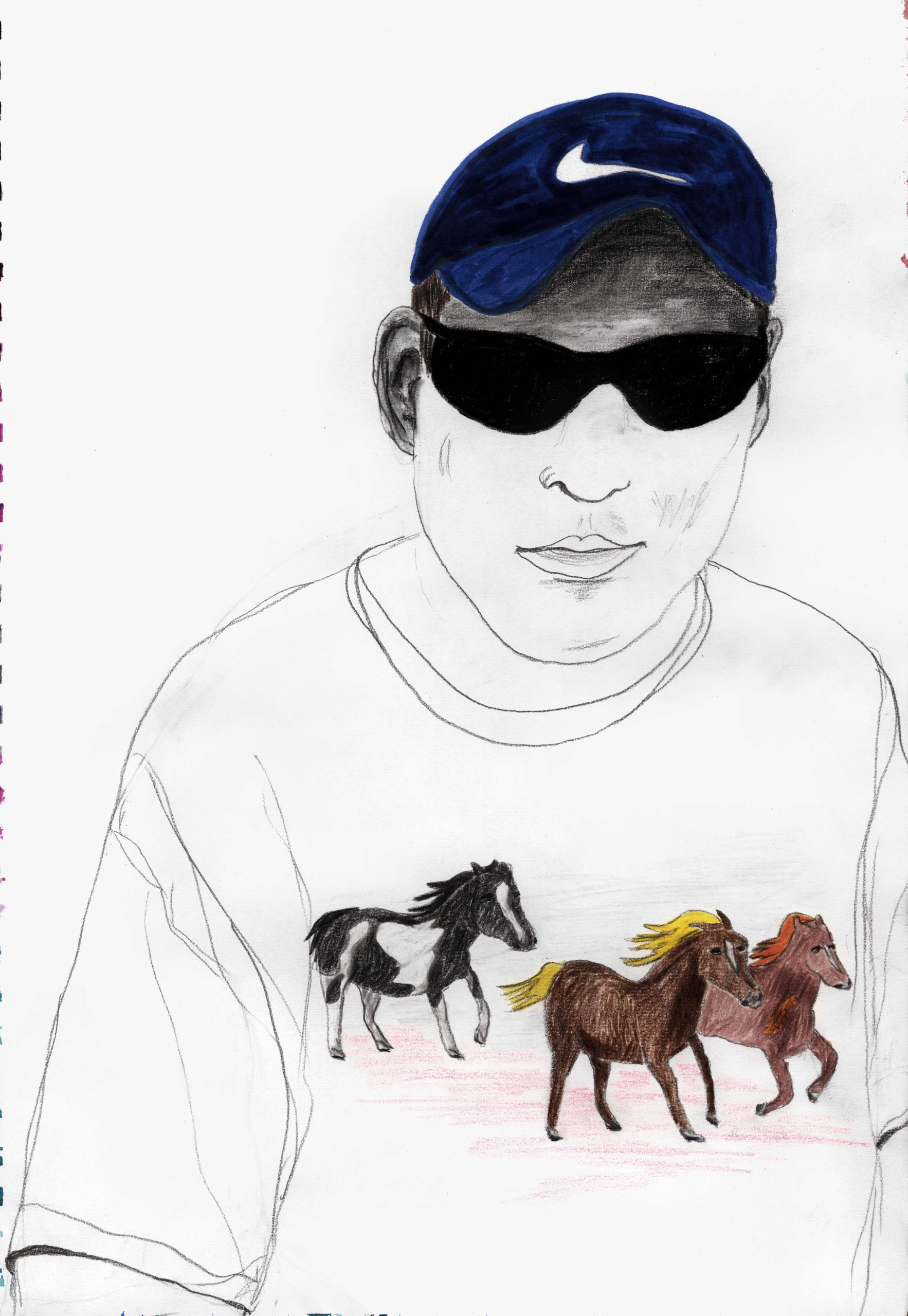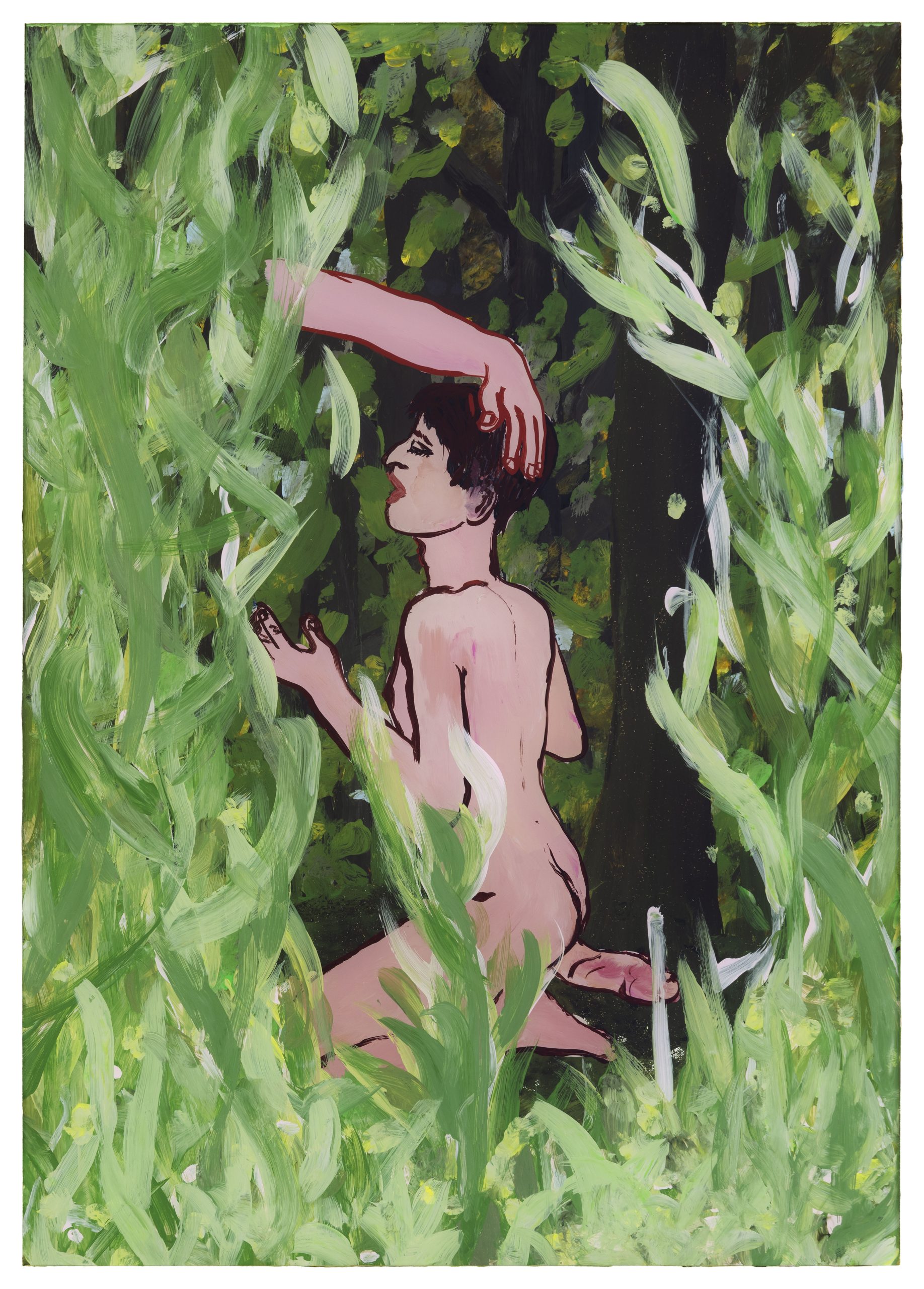 "Soft Boy. Tender like a plant that needs to be watered and taken care of. Masculine like giving your girlfriend a piggy back ride, masculine like she gives you a piggy back ride."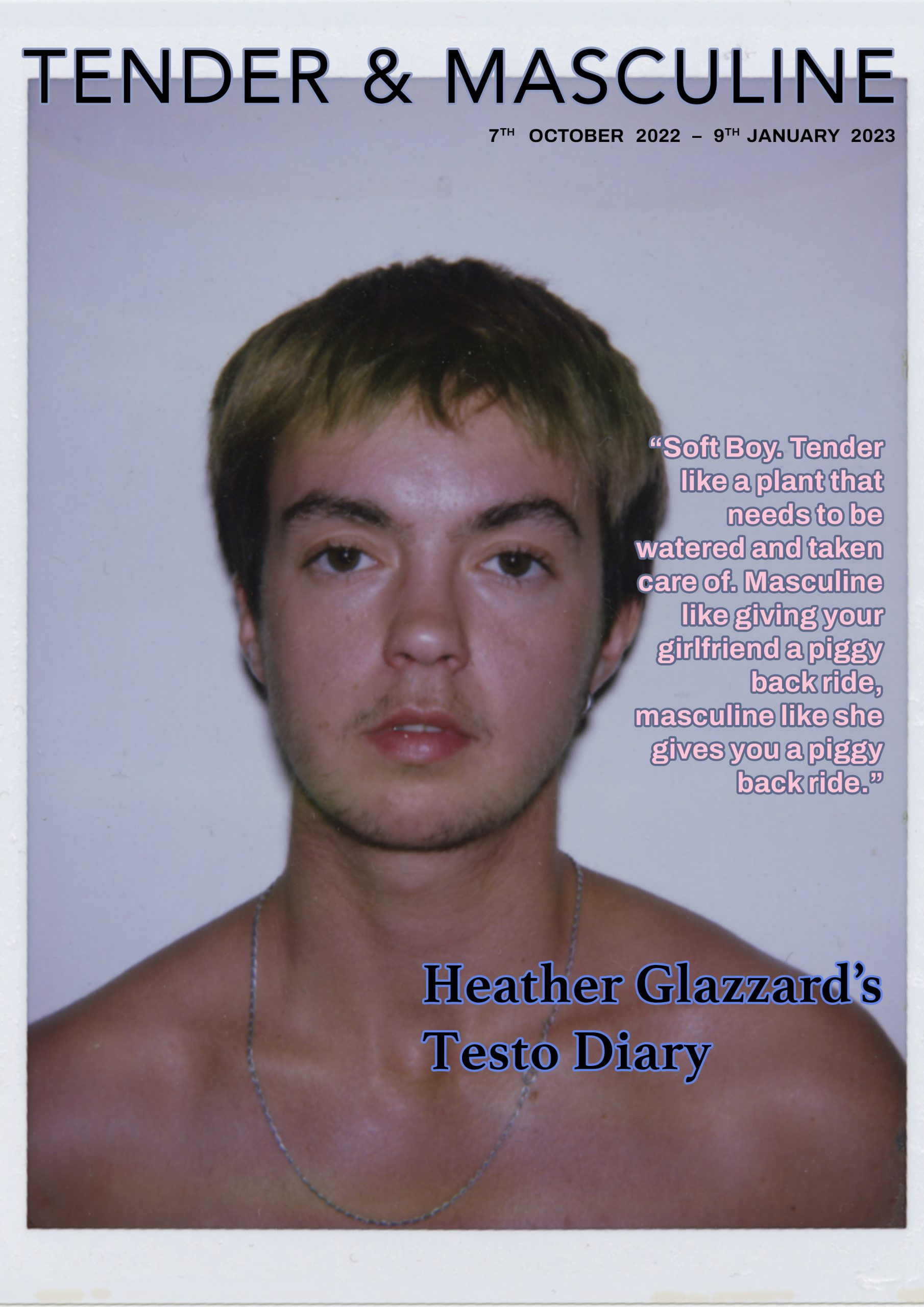 HEATHER GLAZZARD
Heather Glazzard is an Artist from Yorkshire living in London. Heather has worked primarily in photography and video, documenting intimate moments and capturing portraiture, to create work that ultimately lenses as a dairy of the people in his life. Often using himself as the subject.
Testo Diary is a body of work aiming to capture themselves, still lives and moments of his relationship. The work tracks their physique on testorone and also in moments after top surgey recovery. Not only does this series demystify the very intimate process of taking hormones for the first time, poignantly, it captures Glazzard's changing relationship to their chest. By exploring the new muscles and shapes of their body as it becomes increasingly masculine in form, they are slowly able to make peace with a part of their body from which they have historically been estranged.
"FUCK THE CIS-TEM / IT'S OUR HISTORY DON'T DENY IT / STONEWALL WAS A FUCKING RIOT / NOT A PHASE / HANDS OFF OUR BODIES / TRANS PRIDE MUST LIBERATE / TRANS JOY IS POWERFUL / WE DONT WANT CIS KIDS TO BECOME TRANS KIDS – WE WANT TRANS KIDS TO BECOME ADULTS. . "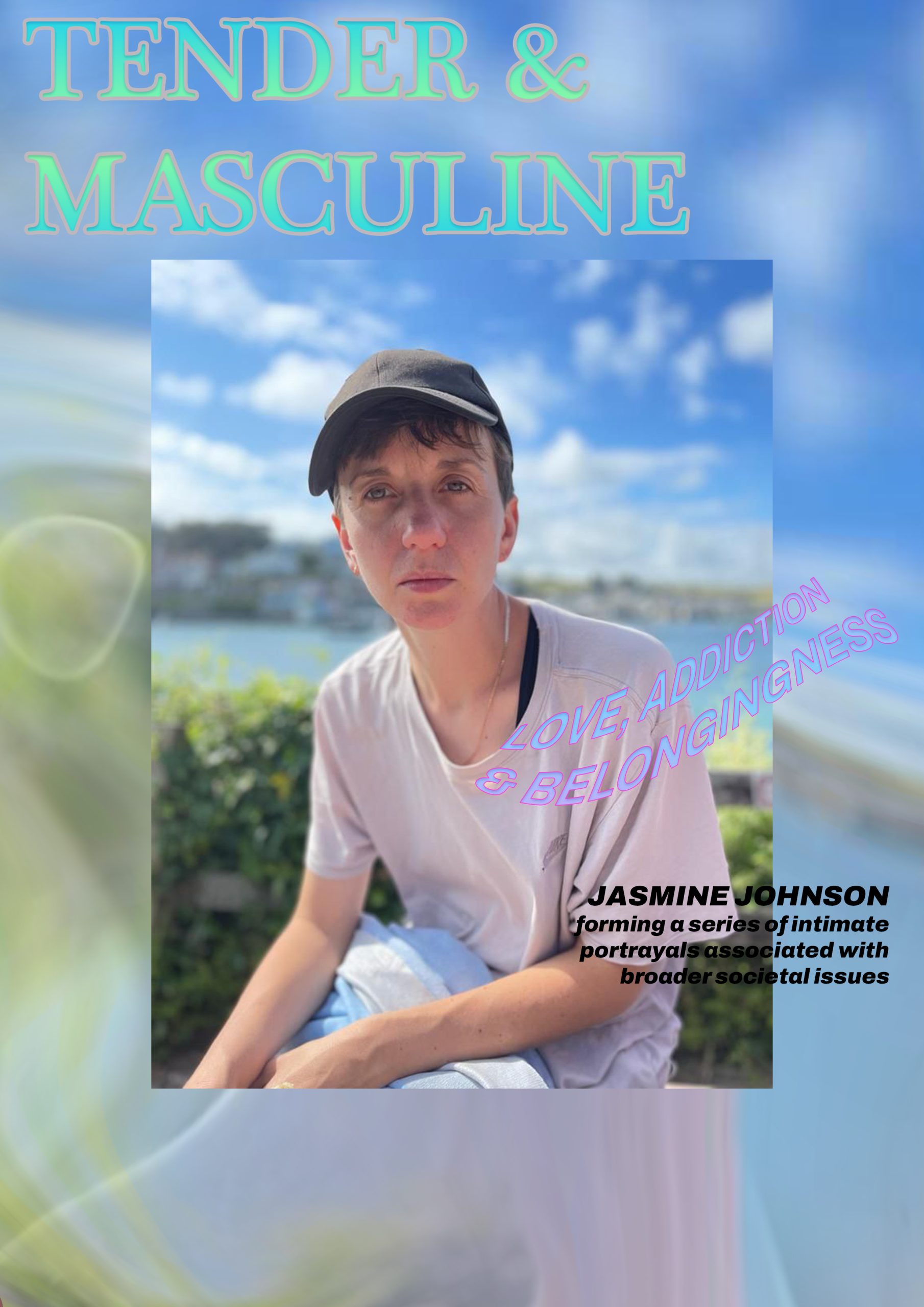 JASMINE JOHNSON
Jasmine Johnson works with people, recording words, objects and day-to-day activities. Drawings, videos and performances have been motivated by admiration, education, longing, searching for alternative worlds which could emerge through connection. Contexts, which in turn, become material for Johnson to work with and through, forming a series of intimate portrayals associated with broader societal issues – such as love, addiction, and belongingness.
Over recent years their works have been presented at: Drawing Room, Studio Voltaire, Barbican, Almanac, Jerwood, ICA (all London), Know Wave Radio, Tulca Galway, CAC Vilnius, Place des Arts Montreal, Devos Museum Michigan. They work as a lecturer at Nottingham Trent University and are currently undertaking a practice-led DPhil at Ruskin School of Art, University of Oxford
Some words on "Tender & Masculine"
We join the protest at Green Park. I walk with Z, first parallel under the Ritz and then we merge with the crowd. Some wave large flags. Others shout in the megaphone. Others shout without a megaphone. Others carry home-made plaques. FUCK THE CIS-TEM / IT'S OUR HISTORY DON'T DENY IT / STONEWALL WAS A FUCKING RIOT / NOT A PHASE / HANDS OFF OUR BODIES / TRANS PRIDE MUST LIBERATE / TRANS JOY IS POWERFUL / WE DONT WANT CIS KIDS TO BECOME TRANS KIDS – WE WANT TRANS KIDS TO BECOME ADULTS. We bring pink carnations I bought from Marks and Spencer's, bite the stalks off and stick them into holes in clothes. Z has one behind their ear, it is lost in their afro. I tuck 4 into the front of my pale blue shorts. We walk in and among, alongside. Our friend arrived early and is at the front, improvising a as steward. The woman next to me walks alone, I walk in time with her.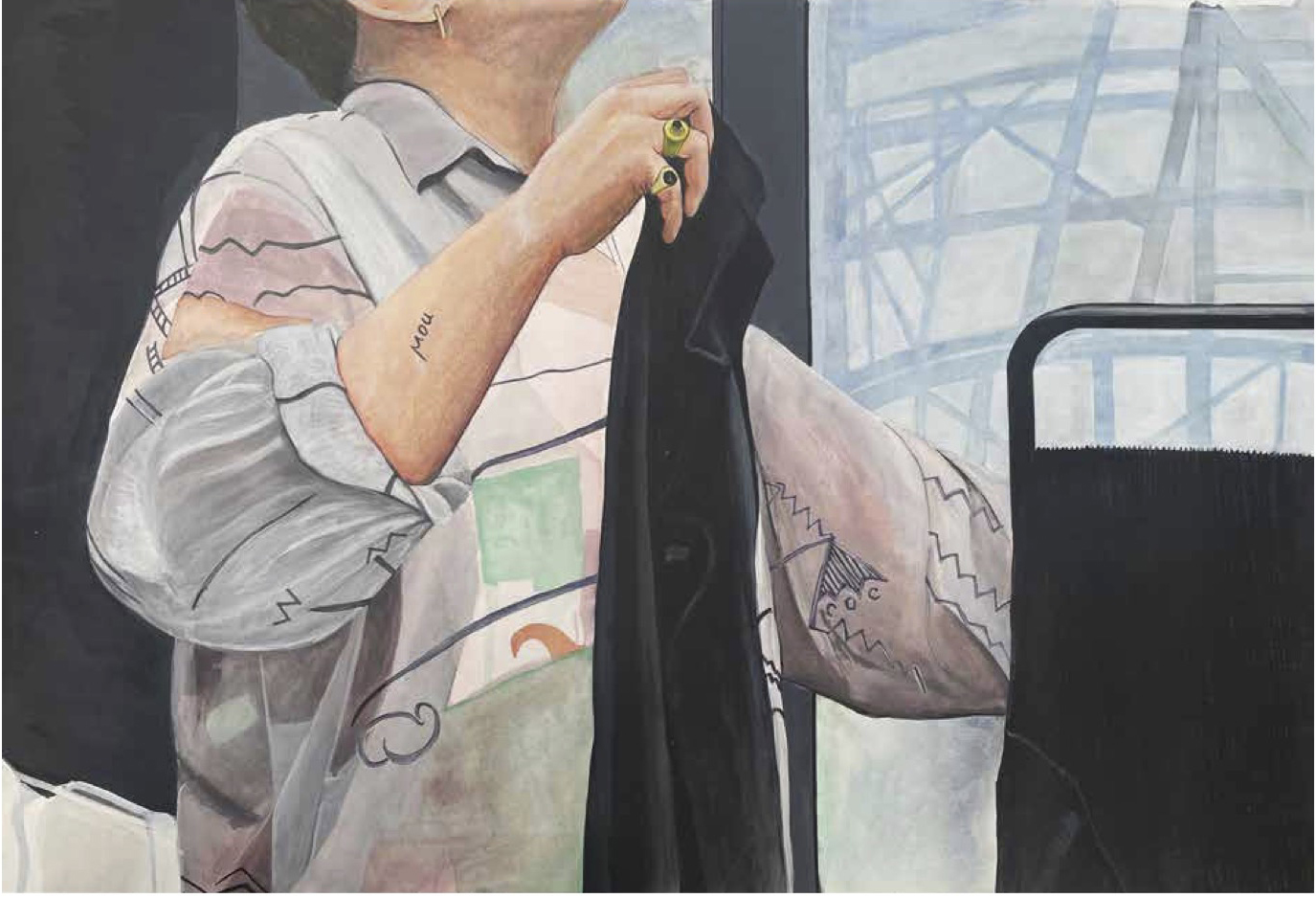 Daddy, watercolour and acrylic on paper, 84.1X 59.4cm, 2022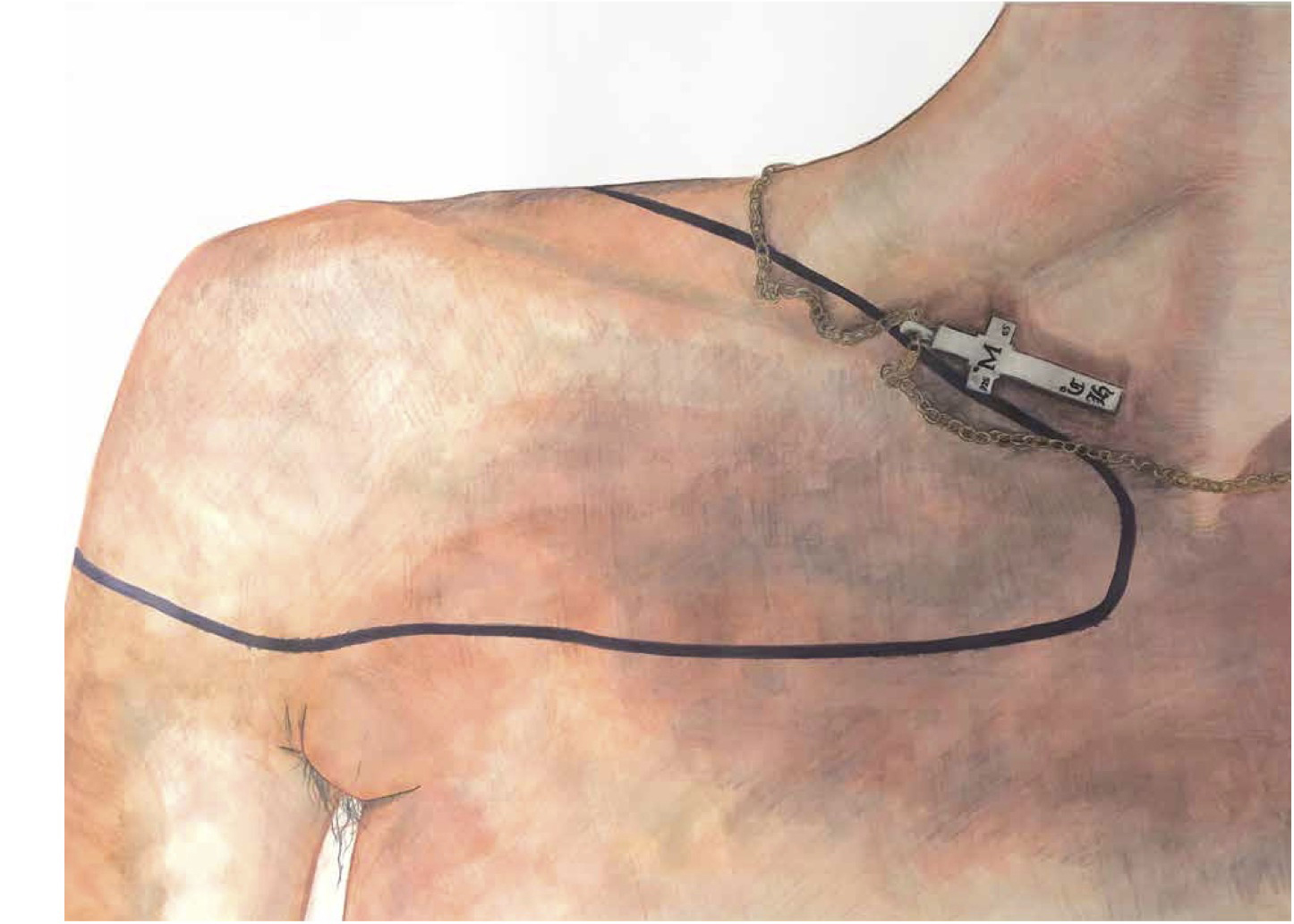 Shoulder, watercolour on paper, 84.1X 59.4cm, 2020
"I don't think there's a clear distinction between what is masculine and what is feminine. I present physically as masculine, and I am feminine in the sense that I am by nature someone who nurtures others and cultivates connection on both a community and personal level. I think that these distinctions are reductive and come from a colonial view of gender. I believe that my gender is richer than these terms are able to express. My gender is the expansiveness of my heart and the way it finds beauty in fluidity; the changeable nature of my creative expression; the power of my ancestry which is rooted in cultures which contain a multiverse of genders."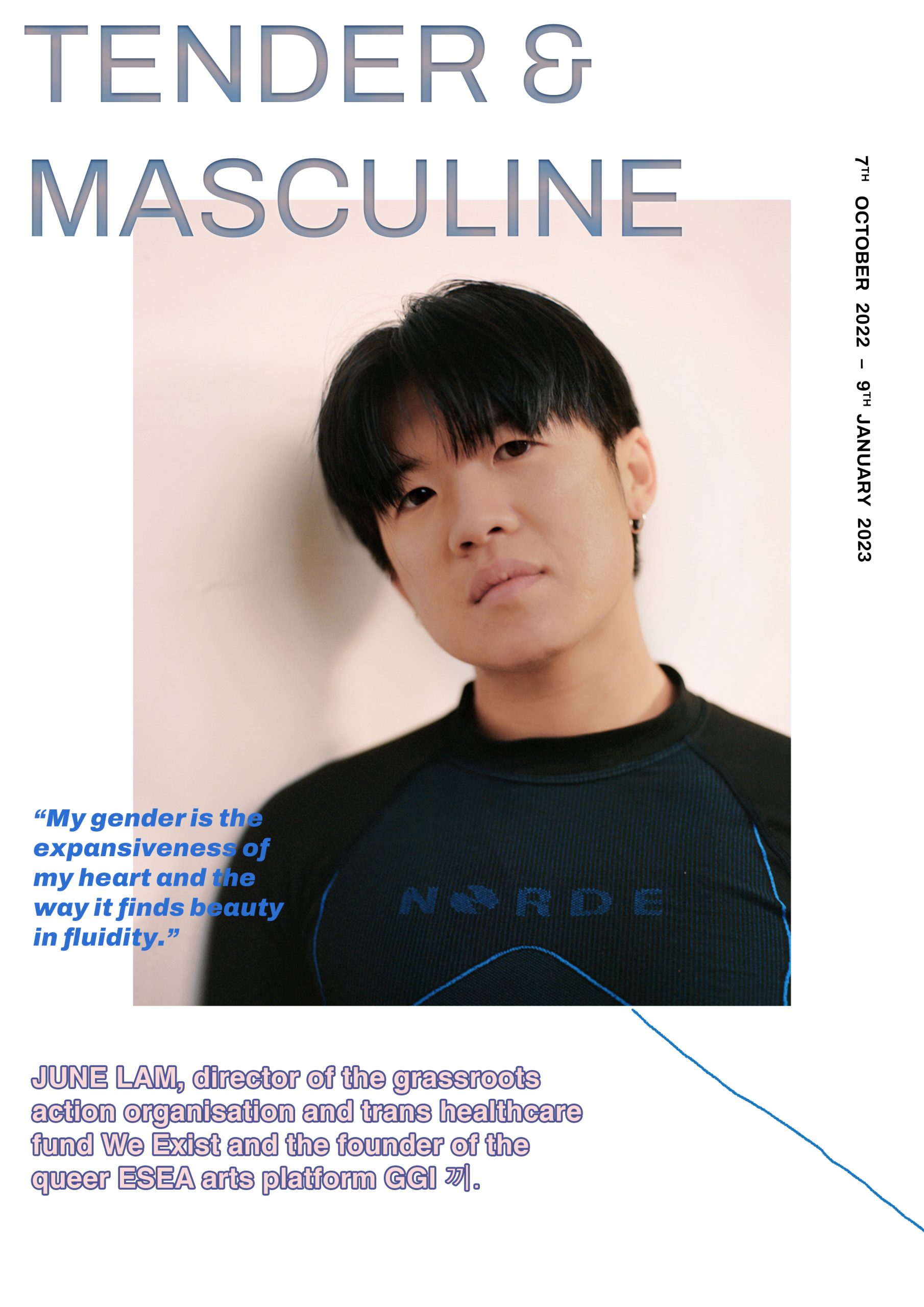 JUNE LAM
June Lam (b. 1990) is a community organiser, producer, actor, model and multidisciplinary artist of Chinese and Vietnamese ancestry, living in London and working across performance, dance, sculpture and collage. He is a director of the grassroots action organisation and trans healthcare fund We Exist and the founder of the queer ESEA arts platform GGI 끼. His work centres on queer desirability politics, fag effeminacy, and embodied experiences of intergenerational trauma.
He recently produced the group exhibition 'In Dedication' at The Koppel Project for We Exist, featuring 28 trans artists from the UK and beyond, curated by Iarlaith MacPheorais, and is currently on the advisory board for This Bright Land, an upcoming arts festival at Somerset House.
June's art practice and performance work has been shown at Firstdraft Sydney, Bloc Projects Sheffield, Volksbühne Berlin, Ford Foundation New York, Ambika P3, Tate Modern, and The Koppel Project.
June has been featured in Pink News, Resident Advisor, Timeout, Gal-Dem, Gay Times, Hunger, Dazed, Vogue UK, Vogue US, I-D, Tissue, Something Curated and AQNB; and recently was commissioned to illustrate the cover for the fifth edition of Somesuch Stories, published by Somesuch in 2021.
Over recent years their works have been presented at: Drawing Room, Studio Voltaire, Barbican, Almanac, Jerwood, ICA (all London), Know Wave Radio, Tulca Galway, CAC Vilnius, Place des Arts Montreal, Devos Museum Michigan. They work as a lecturer at Nottingham Trent University and are currently undertaking a practice-led DPhil at Ruskin School of Art, University of Oxford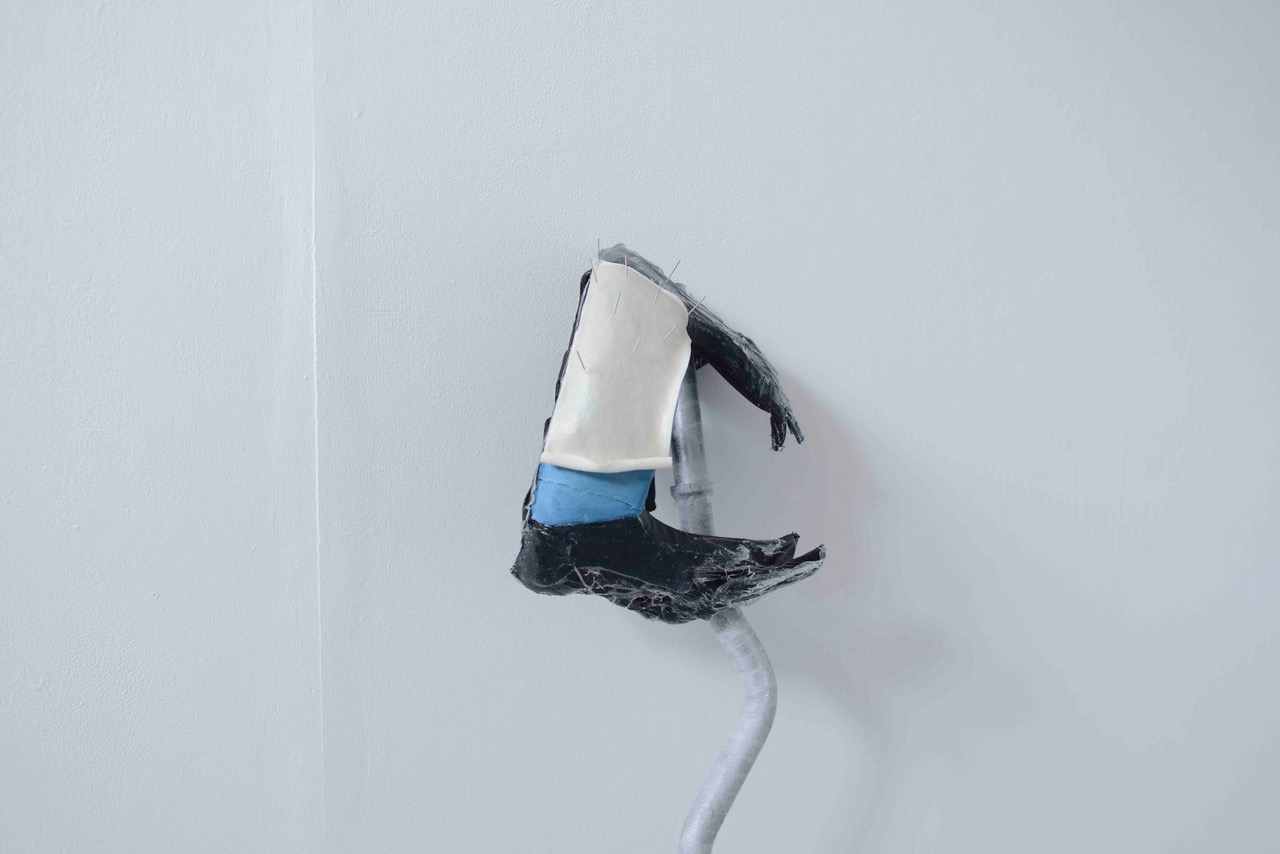 "We need more tenderness and less violence. We must redefine what being masculine means."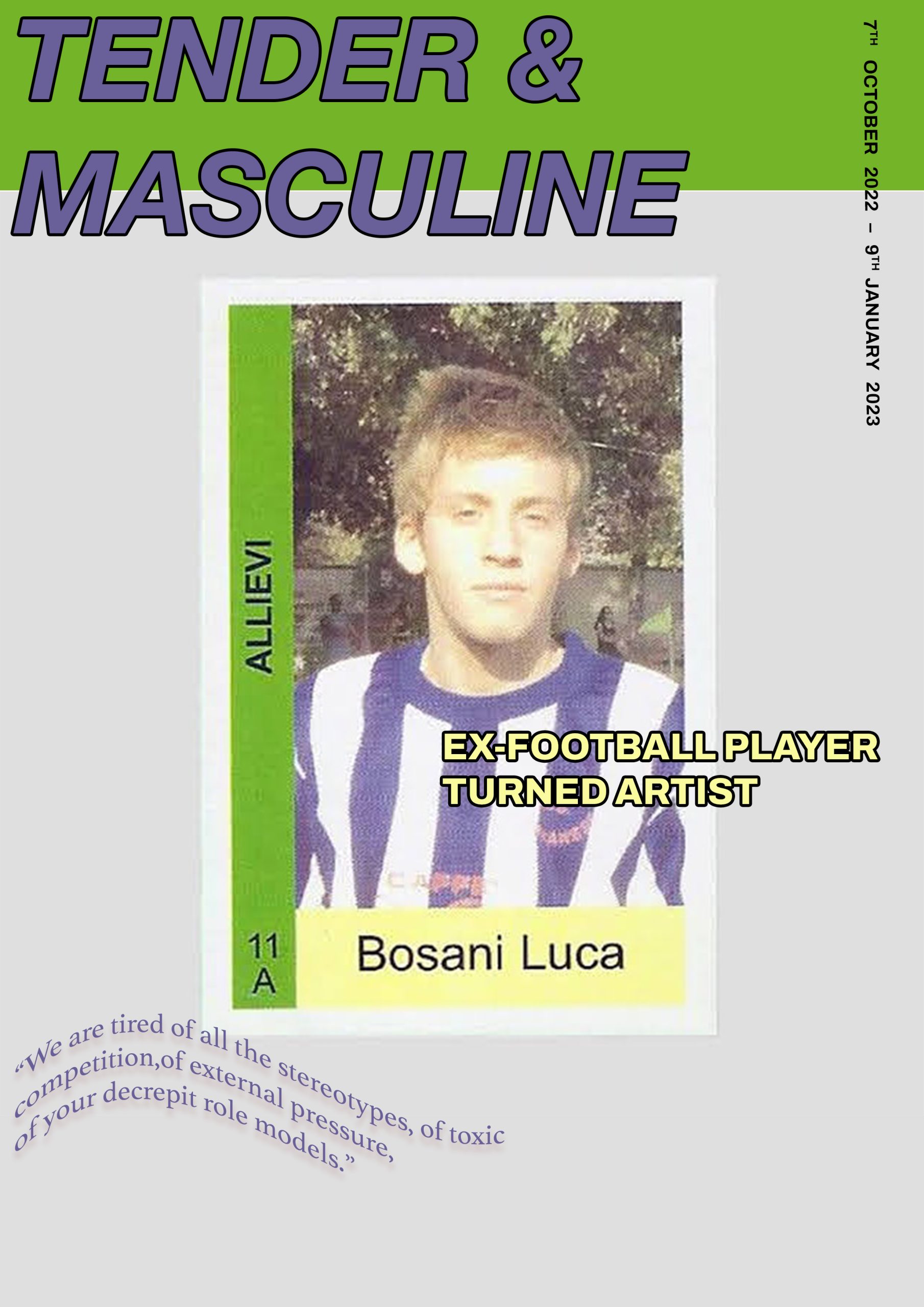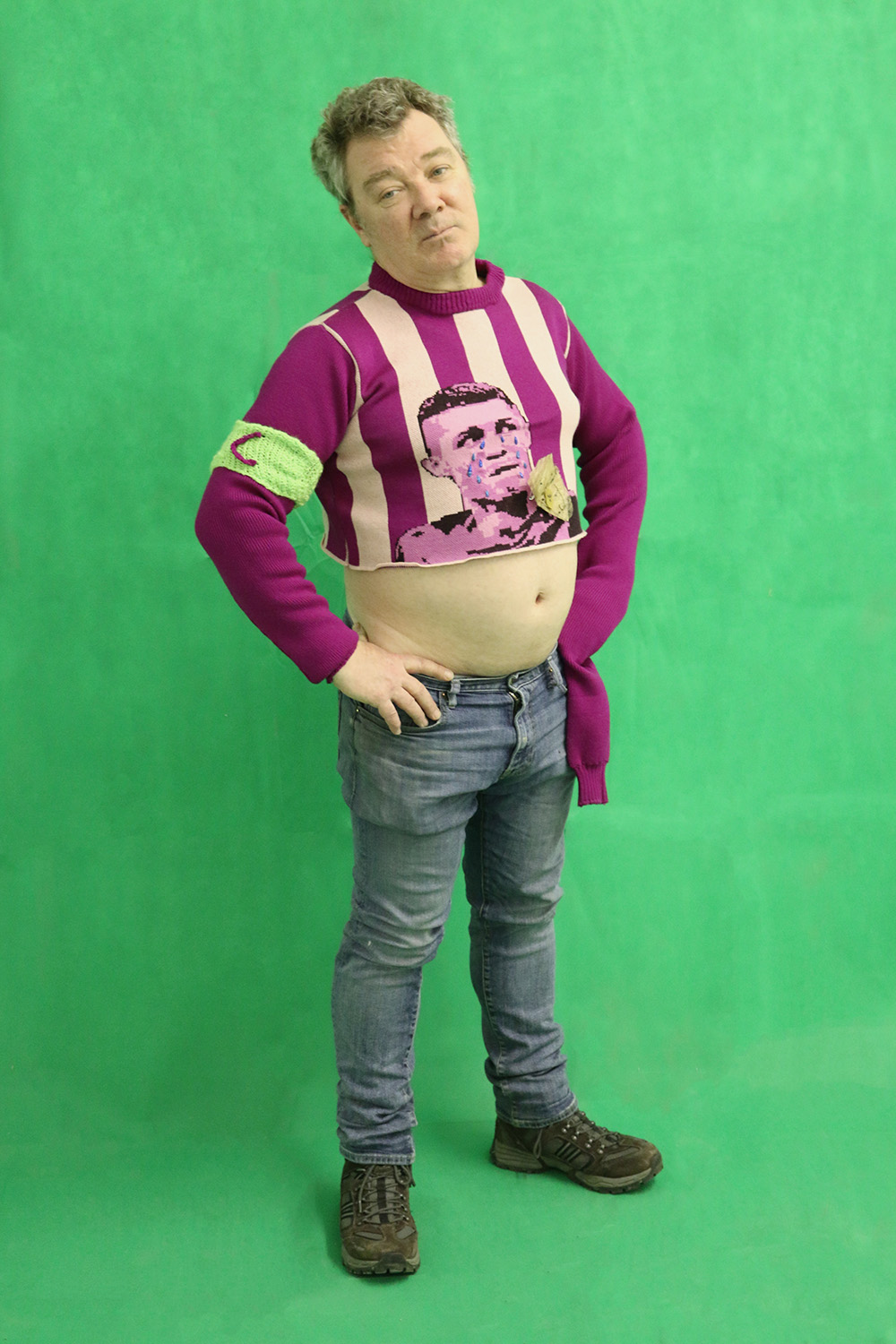 The Contemporary Hero Demise_2018
LUCA BOSANI
Luca Bosani is an Italian ex-footballer turned into artist. Before moving to London he played football for G.S. Aurora (1998-2004), G.S. Pregnanese (2004-2008, 2009-2010), U.S. Settimo Milanese (2008-2009), Santo Stefano Ticino U.S. (2011-2012) and A.C. Passirana (2012-2013).
After completing his artistic studies at the Slade (2013) and Kensington and Chelsea College (2013-2014); in 2017 he graduated with a MA in Performance (Contemporary Art Practice) at Royal college of Arts London.
As an artist Luca exhibited internationally including: National Museum of Modern and Contemporary Art (Seoul, 2021), San Mei Gallery (London, 2021), Quartier Am Hafen (Cologne, 2021), Fondazione Francesco Fabbri (Pieve di Soligo, 2020), Tate Britain (London, 2019), Kunstraum (London, 2019), Guest Projects (London, 2018), Uppsala Konstmuseum (Sweden, 2017).
Upcoming solo exhibitions include: Galerie Tatiss (Lyon Biennial, 2022), Lunetta11 (Artissima Turin, 2022), Osservatorio Futura (Artissima Turin, 2022).
Some words on "Tender & Masculine"
Tender and Masculine are not opposites.
Tender and Masculine can coexist.
We need more tenderness and less violence.
We must redefine what being masculine means.
We are tired of all the stereotypes,
of toxic competition,
of external pressure,
of your decrepit role models.
We are tired.
Let us be.
Because together we can be wonderful.
Tender and Masculine,
indeed.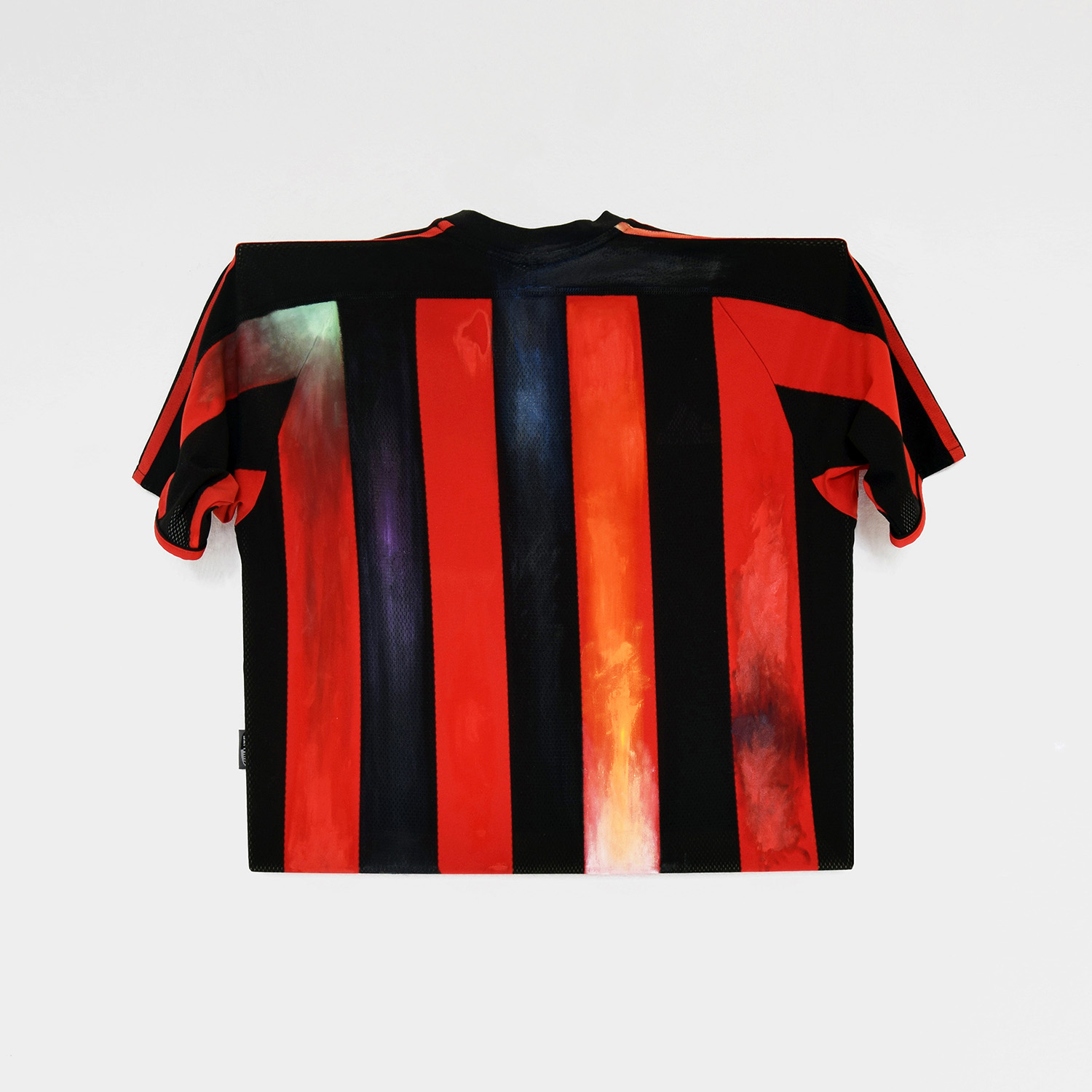 "For me 'tender and masculine' embodies a reconciliation of masculinity and softness. Within the transmasculine experience there exists so many contradictory sensations of softness and resilience that language fails to express; feelings of  joy tinged with sorrow, a sense of loss and mourning, and feelings of euphoric brotherhood and belonging.I monastically search for a mystical and celestial masculinity of angels, tigers, tears and the sun. Through my visual language I seek to channel this dreamlike and utopian masculinity. Mapping out a web of idiosyncratic tender and masculine semiotics I highlight this textured experience of transmasculinity.."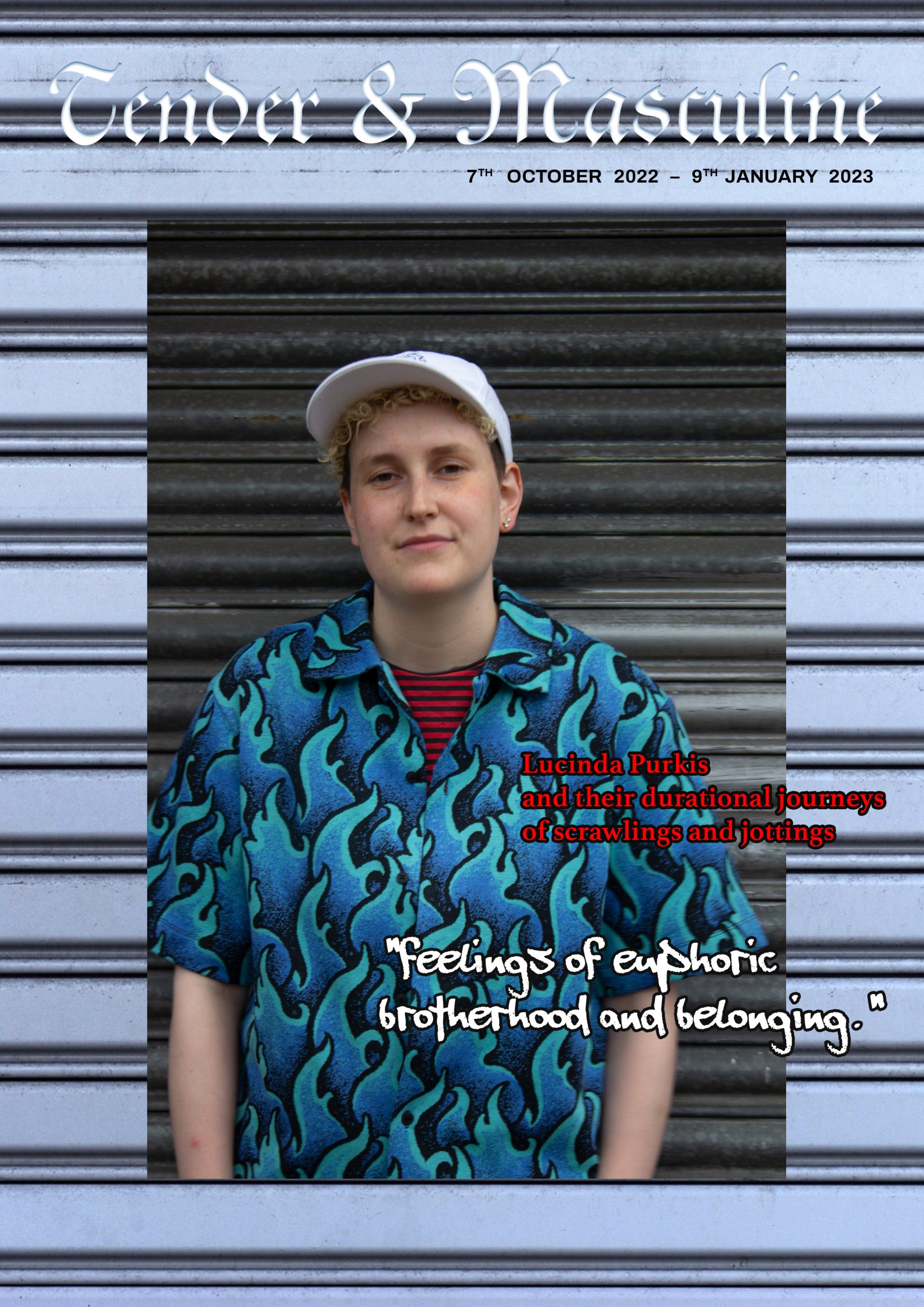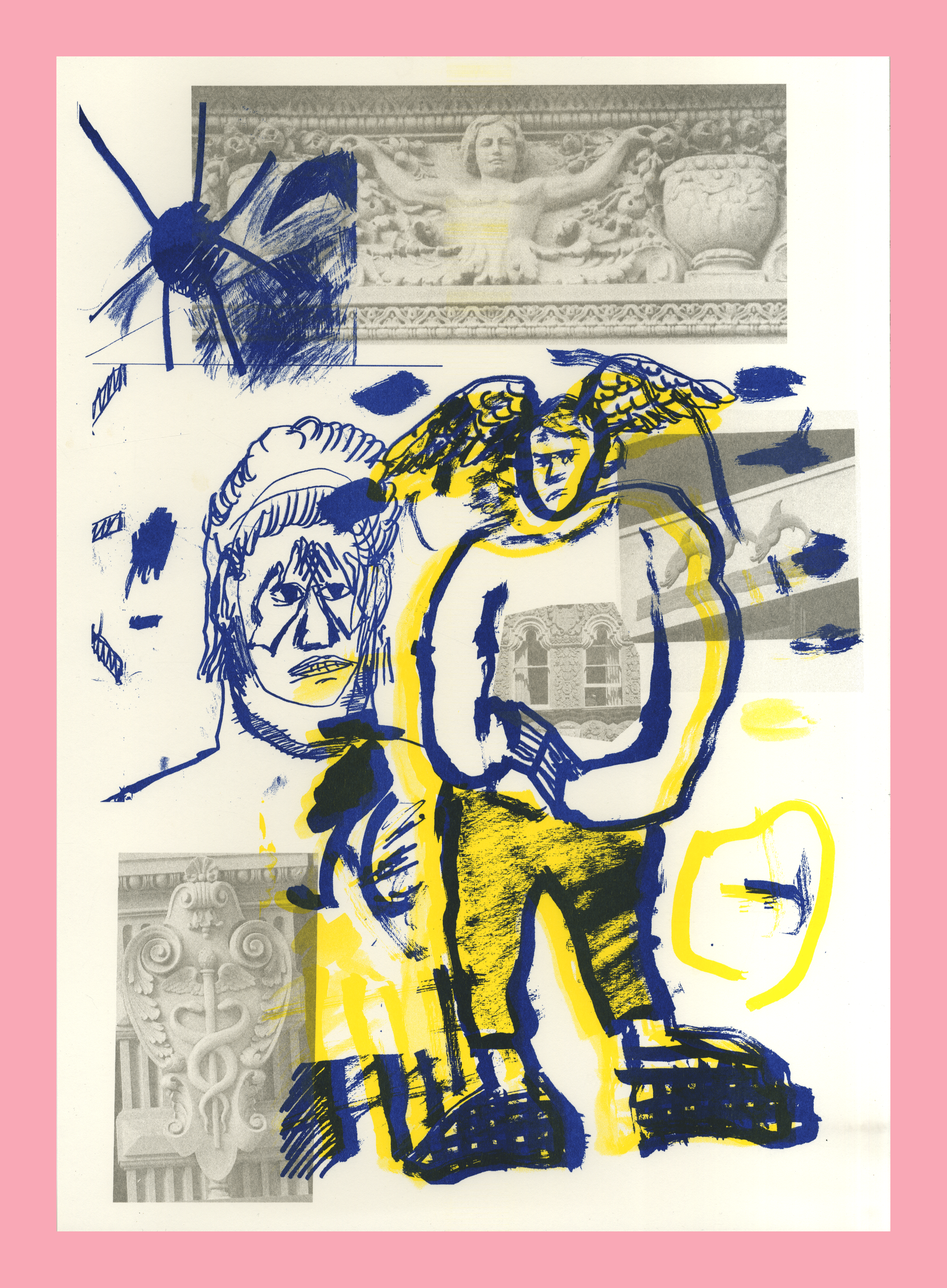 Feet Dragging Wing Man , L Purkis, 2022
LUCINDA PURKIS
Lucinda Purkis is a multi-disciplinary visual artist. They work within the intersections of different craft disciplines and are drawn to this way of working as they require skills that are self taught, intuitive and are imbibed in folkloric tradition. Their works function as an inner world mapped out – durational journeys of scrawlings and jottings. Characters, motifs and symbols recur throughout, creating a poetry of symbols where the narrative can be inferred but is not straightforward. In addition to this, social observation, comic and memoir is a key aspect of their work as each scene is in some way autobiographical. Most recently they have shown work in 'Open Windows Flowers Will Grow' – a joint show at the Peckham Pelican with Sapphira F-S and their work 'Joan of Bieber' (Joan Wins) 2022 has been on display in Queer Youth Art Collective's 'Erratica' – an exhibition that toured the UK between April and June 2022.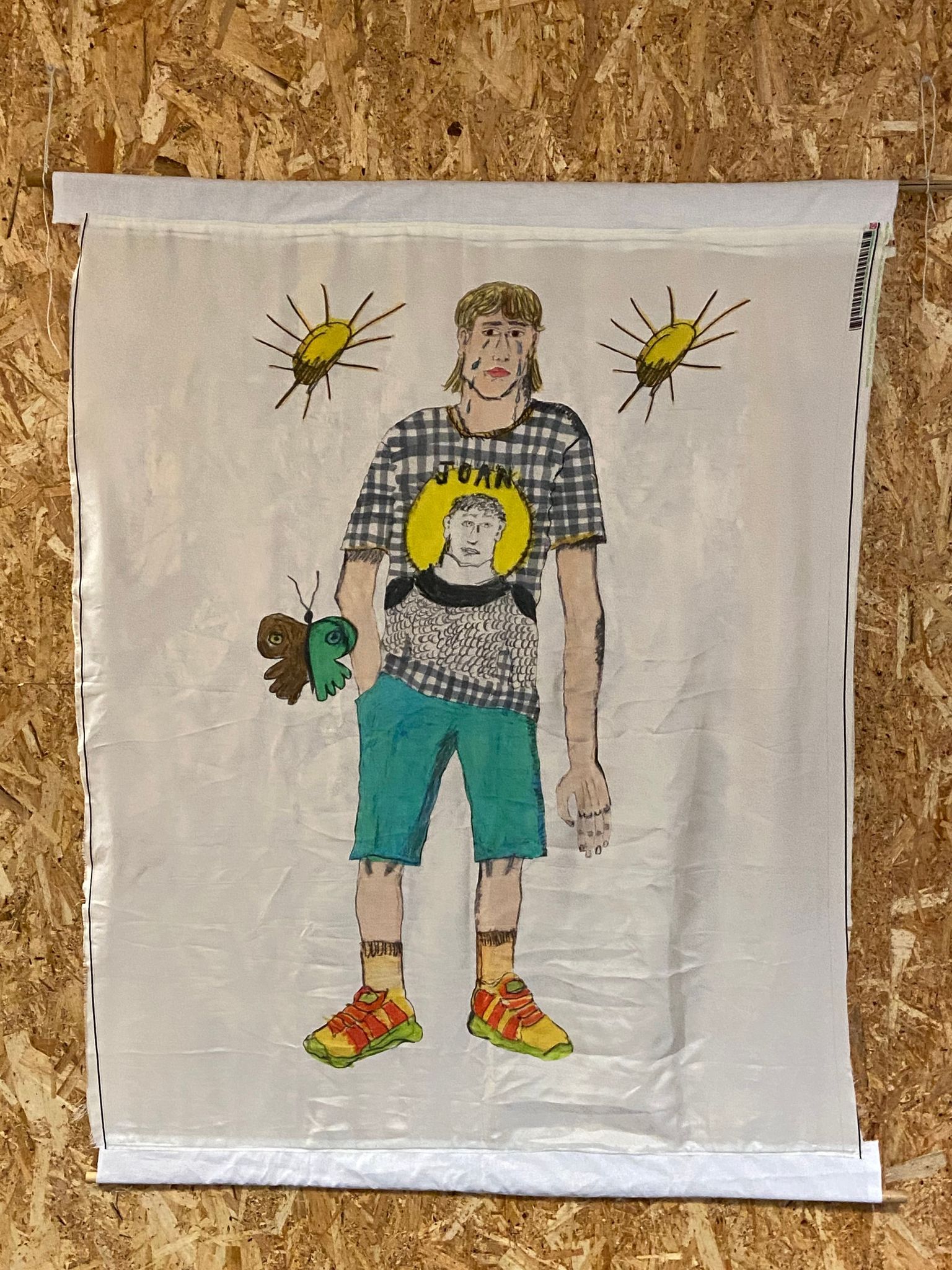 Joan of Bieber, L Purkis, 2022
"Tender and Masculine to me just feels like a more honest way of living. I have always been a tender and sensitive person, which I think I've tried -and failed- to hide behind my masculinity. However more recently I've felt able to hold my softness, my vulnerability, my ability to be hurt, alongside my natural ways of being more 'masculine'… whatever it means, it feels good to me. As I'm trying to live a more spirit first life, tender and masculine feels like a sweet place to be."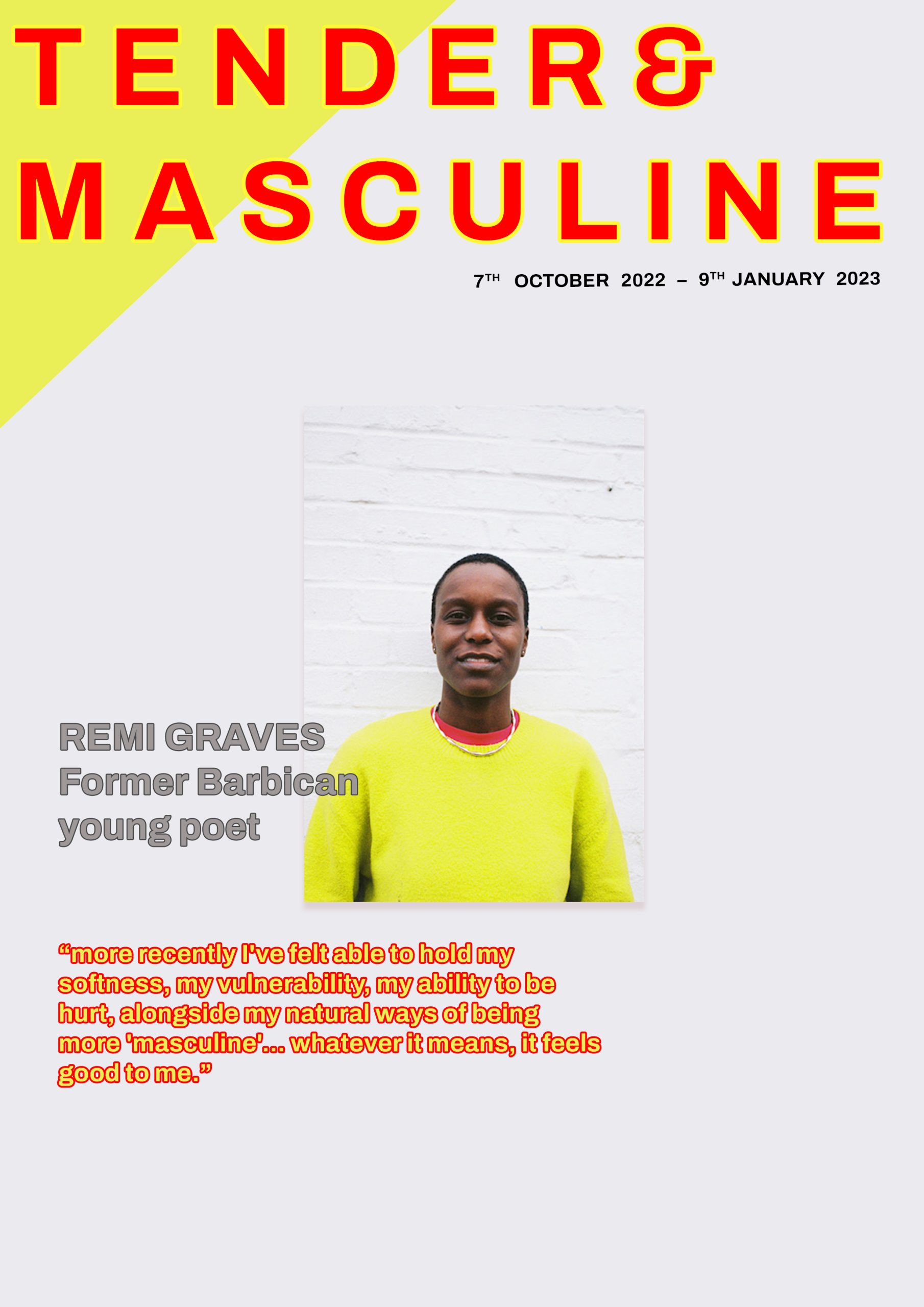 REMI GRAVES
Remi Graves is a London based poet and drummer. A former Barbican Young Poet, Remi's work has been featured on BBC Radio 4, at St Paul's Cathedral and published in several anthologies. Remi's debut pamphlet with your chest will be published by Fourteen Poems in Sep 2022.
please don't text me, I'm dreaming – Apples and Snakes Video Poem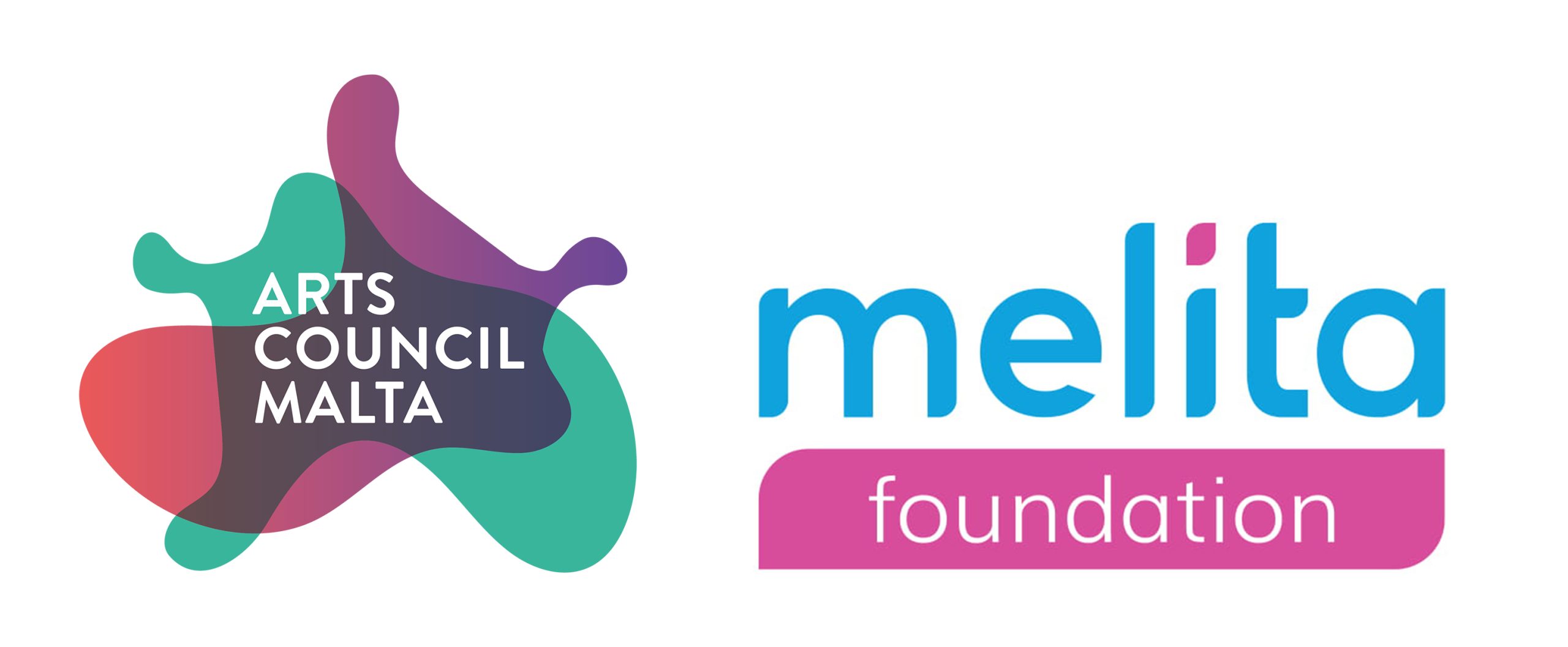 ROSA KWIR IS SUPPORTED BY ARTS COUNCIL MALTA IN COLLABORATION WITH THE MINISTRY FOR GOZO AND MELITA FOUNDATION