KEYBOARD FANTASIES – FILM SCREENING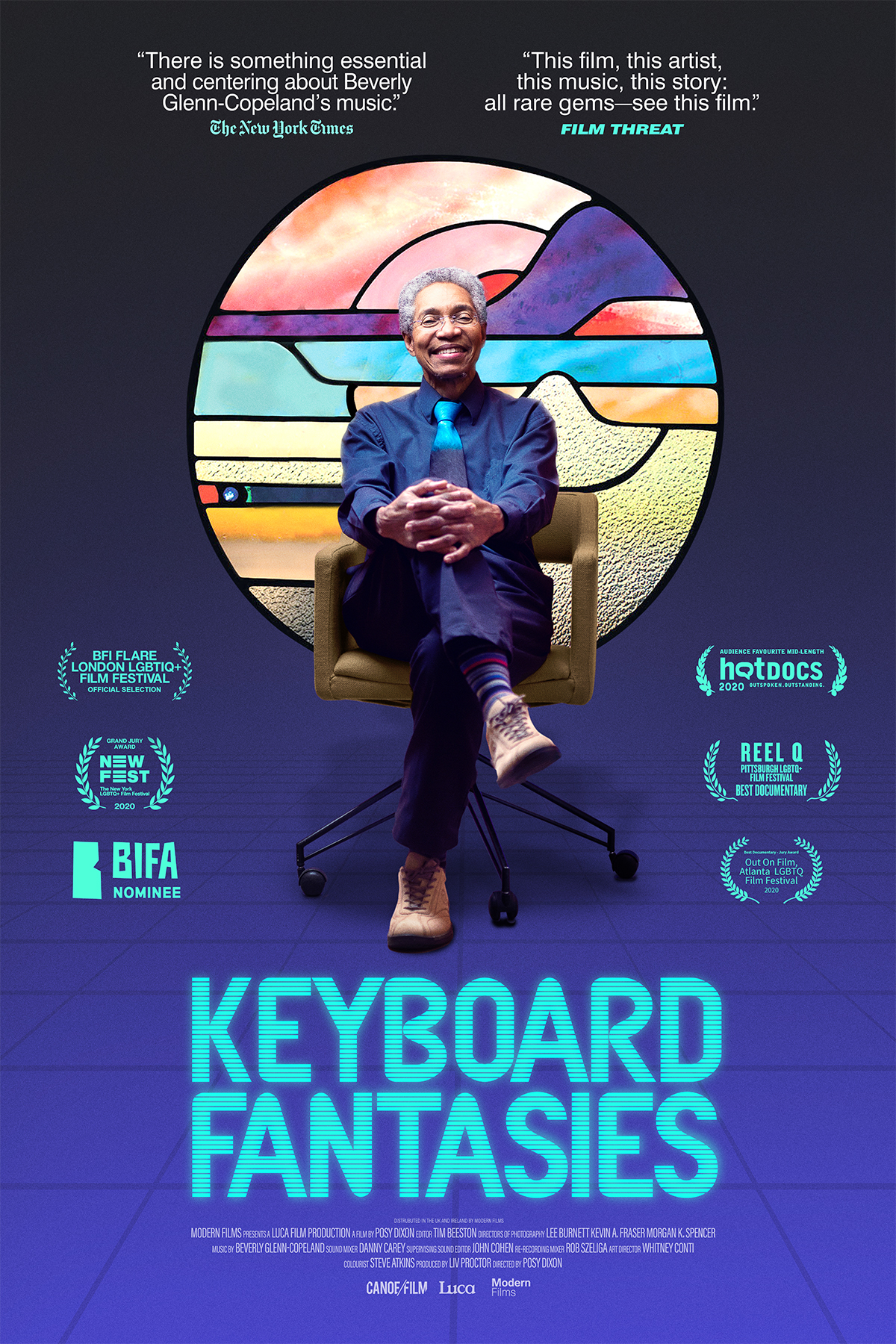 This film will be screening as part of our Rosa Kwir Presents 2022 programme.
A Q&A with the director, Posy Dixon will follow
Admittance is free of charge, however booking is necessary, as the maximum capacity for this event is 25 people.
Event Details:
Address: 38, Main Street, Balzan
Time: 18:30 PM
08.04.2022
Emerging from years in isolation to an enraptured crowd, a transgender, septuagenarian musical genius finally finds his place in the world. Part biopic, part tour documentary, Keyboard Fantasies tells the time-travelling tale of this mystical musician and vocalist, as the present finally catches up with him and he embarks on his first international tour at the age of 74.  
Capturing five decades of relentless musical output and shifting manifestations of gender and sexual identity, set against a backdrop of profound social change, the film celebrates the unpredictable rhythms of life.
A lullaby to soothe those souls struggling to find their place in the world.

REVIEWS:
"glorious documentary" * * * * The Guardian 
"watch it and spread the word" * * * * Little White Lies 
"when i heard keyboard fantasies the impact was instant…  it was truly healing to listen to. i'm thrilled to see glenn tell his story."— Robyn
"how could music that beautiful have been forgotten for so long?"  — Caribou
"a delicate, nuanced and life-affirming tribute" ★★★★ — The Queer Review
"we have to go to the record store, find a new tag 'medicinal' and put keyboard fantasies under there." — Devendra Banhart
ABOUT BEVERLY GLENN-COPELAND:
The diverse work of legendary Canadian/American singer, composer and transgender activist Beverly Glenn-Copeland has been gathering momentum and recognition in recent years thanks to a reissue of the extraordinary folk-jazz of his debut self-titled album (1970) and the widespread discovery of his masterpiece Keyboard Fantasies (1986), which was awarded the Slaight Family Polaris Heritage Prize in 2020.
The recent career retrospective release, Transmissions: The Music of Beverly Glenn-Copeland, is a career-spanning album that includes compositions from his early works and his cult-status release, Keyboard Fantasies. It achieved widespread critical acclaim and has shown that Glenn-Copeland's music continues to defy categorisation and genre 50 years after his miraculous career began.
Born in Philadelphia in 1944, Glenn-Copeland grew up in a house obsessed with classical music, his father practiced piano for 5 hours a night. Glenn refers to Bach, Chopin and Mozart as his 'cradle music', music that seeped into his blood-stream. He moved to Montreal in 1961 so that he could study German Lieder (song-cycles) at McGill University. Faced with challenges and hostility relating to his race, gender and sexual orientation he dropped out of university before completing his degree. He picked up a guitar and started writing music.
In 1970 Glenn-Copeland recorded two brilliant albums. The first was part of CBC's 'Transcription Series' titled Beverly Copeland. It was a virtuosic showcase of classical and jazz vocal stylings, poetry, jazz and folk, accompanied by some of the best players of the time. Original pressings of that album now fetch thousands of dollars when passed from collector to collector – just 250 copies were pressed. Six months later Glenn- Copeland made a studio album with many of those same musicians, this time titled Beverly Glenn-Copeland, it was folk-jazz classic and an album that has been the subject of a mystical reputation and underground following for almost five decades now.
It wasn't until 1986 that Glenn-Copeland recorded again. This time he was inspired by a profound relationship with nature, an obsession with science fiction and some of the earliest drum-machines and synthesisers. Keyboard Fantasies is a minimalist, proto- electronic masterpiece with unbelievable soul. Imagine Joni Mitchell collaborating with Brian Eno and you'll get close. Self-released on cassette, it sold less than 100 copies at the time. But Keyboard Fantasies was this record that would break Glenn's career wide- open more than 30 years later.
His life has been a non-stop combination of self-discovery and part pop-culture fairy-tale. He appeared as regular guest 'Beverly' on the beloved Canadian children's TV show Mr. Dress-up for nearly 30 years. He wrote for Sesame Street. He lived in the cities and in the wild. He wrote musicals, operas, children's music and hundreds upon hundreds of other songs even though he only had the means to record those few aforementioned albums.
In the early 1990's Beverly Glenn-Copeland first heard the term 'transgender'. Armed with the language to describe the way he had felt since before he was even a teenager, he found a self-identity which had eluded him his whole life.
In 2016 Keyboard Fantasies was discovered by a revered Japanese record-store owner and collector. Word spread in the record-collecting community and several re-issues were released on different labels. Glenn played his first shows of original music in more than 40 years to standing ovation after standing ovation. He formed a band of brilliant and talented young musicians from Nova Scotia, Montreal and Toronto and started touring the world.
ABOUT POSY DIXON (DIRECTOR)
What started as a personal infatuation with a record spiraled into a debut feature from director Posy Dixon as she developed a close friendship with Glenn over Skype three years ago. The experience of co-creating such an intimate personal history has done nothing but compound her interest in archives, aural histories and intergenerational exchange.
ABOUT LIV PROCTOR (PRODUCER)
Liv Proctor is a producer based in London, where she co-runs production company LUCA. Her filmmaking has focused on the intersections between identity, the visual arts and music, producing work for the likes of Vogue, VICE and the FADER. Keyboard Fantasies: The Beverly Glenn-Copeland Story, is her first feature documentary.
ABOUT LUCA (PRODUCTION COMPANY)
LUCA is an independent production company based in London. Our work – from documentary features & series to music videos & experimental arts projects – endeavours to add to conversations and open up new avenues of thought. Keyboard Fantasies: The Beverly Glenn-Copeland Story is LUCA's first feature and is due for international release later in 2021.
ABOUT MODERN FILMS
Modern Films is a London-based, female-led, social issues-driven film company that spans production, distribution and exhibition.
Established in 2017 with the release of Manifesto starring Cate Blanchett and Executive Production on the BAFTA-winning I Am Not a Witch, they now represent a library of over 60 films, including such esteemed titles as Oscar® nominee Border, Alice Rohrwacher's Happy as Lazzaro and Haifaa Al Mansour's The Perfect Candidate, British co-productions Wildfire by Cathy Brady, Luxor by Zeina Durra and Dirty God by Sacha Polak, as well as documentaries Poly Styrene: I Am a Cliché, Beyond the Visible: Hilma af Klint and Sisters with Transistors narrated by Laurie Anderson. Upcoming they are releasing Cannes Film Festival and Berlinale winners Drive My Car and Wheel of Fortune and Fantasy, film-visual art-history crossover feature Memory Box, Camera d'Or winner Murina and documentary a-ha: The Movie.
Since March 2020, they also host a leading Virtual Cinema network that expands cinema bookings beyond physical theatres, to be online and to include other venues, cultural organisations, shops and brands. Winner of Highly Acclaimed Distributor of the Year at the Screen International Awards.
AUDIO VISUAL TAPESTRY – A WORKSHOP WITH POSY DIXON
AUDIO VISUAL TAPESTRY 
A MULTI-SENSORY RE-IMAGINING OF HISTORIES YET TO BE TOLD 
This workshop will be hosted as part of our Rosa Kwir Presents 2022 programme.
Admittance is free of charge, however booking is necessary, as the maximum capacity for this event is 20 people.
Event Details:
Address: 38, Main Street, Balzan
Time: 11:00 AM
09.04.2022
This workshop is an extension of the DIY, cut-and-paste technique that Posy found themselves  using when making Keyboard Fantasies. This is filmmaking without cameras. Participants will start creating audio visual tapestries of the lives of three characters from the Rosa Kwir archive.
Bio
Posy Kai Dixon (she / they) – is a BAFTA nominated British/American director working between London, Hawaii, NYC & LA. They work in & around the edges of documentary – features & shorts, editorial and commercial.
Posy is into: Collaborative practises, the culture of fashion, identity in all its slippery forms, intergenerational exchange, innovation, archives, the blending of fiction and reality and immersive host-led work.
Their directorial debut feature Keyboard Fantasies was nominated for Outstanding Debut Film by a British Director at the 2022 BAFTA's, alongside a nomination for Best Documentary at the 2021 BIFAs, and numerous Festival Awards including an Audience Award at HotDocs.
Posy Dixon's films have been shown at art institutions globally including MoMAP PS1, ICA, Barbican, Autography Gallery & CCA Glasgow. Alongside their personal work they write and direct for clients including BBC, Channel 4, Tate, Vogue, Bloomberg, WIRED, Alexa Chung, Dior & The Business of Fashion.
Posy is also co-founder of LUCA an independent production blob based in London. They work both through LUCA & independently with other production partners. The director shot films in 6 of the 7 continents – including extensive stints in Russia, Ukraine, China, Palestine & Israel.
They are culturally aware & have a network of great crew worldwide.