ROSA KWIR PRESENTS
EVENTS PROGRAMME 2022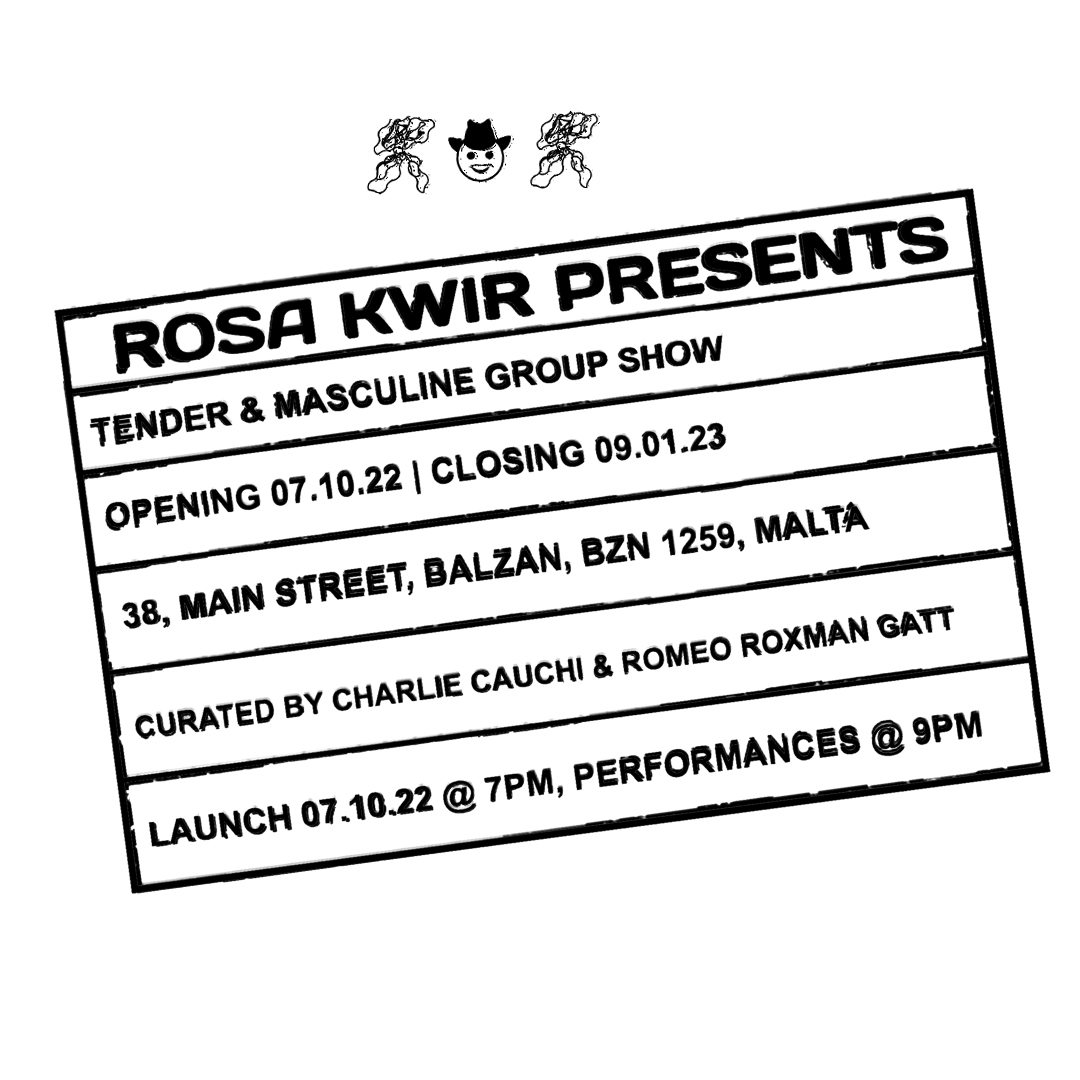 Tender & Masculine Group show
07.10.2022 – 09.01.2023
Tender and Masculine is Rosa Kwir's first group show, exclusively showcasing the work of LGBTQI+ artists. The show opens on 7th October at 7pm, with a performance starting at 9pm.
The exhibition unpacks the often complex debates on masculinities but does so from a queer standpoint. By pairing the word masculine with an adjective like tender, the provocation establishes a more nuanced and gentler approach to discussing masculinity.
Exhibiting Artists: Amy Pennington, Carlos Maria Romero aka Atabey, Dagmar Bosma, El Hardwick and Orion Isaacs, Elio Mercer, Harry Hachmeister, Heather Glazzard, Jasmine Johnson, June Lam, Luca Bosani, Lucinda Purkis, Remi Graves.
No Ordinary Man – Film screening + Q&A
10.02.2022
No Ordinary Man is an in-depth look at the life of musician and trans culture icon Billy Tipton. Complicated, beautiful and historically unrivaled, this groundbreaking film shows what is possible when a community collaborates to honor the legacy of an unlikely hero.
How To Draw Hands: A Trans
Crip Writing Workshop by D Mortimer
Last Night A Beef Jerk Saved My Life
A book reading with D Mortimer
17.03.2022
Writer D Mortimer will deliver a workshop on trans crip writing in the morning followed by a reading from their new book Last Night A Beef Jerk Saved My Life in the evening.
Keyboard Fantasies – 
Film screening
+ Q&A  and workshop with Posy Dixon
08.04.2022 | 09.04.2022
​​Emerging from years in isolation to an enraptured crowd, a transgender, septuagenarian musical genius finally finds his place in the world. Part biopic, part tour documentary, Keyboard Fantasies tells the time-travelling tale of this mystical musician and vocalist, as the present finally catches up with him and he embarks on his first international tour at the age of 74.